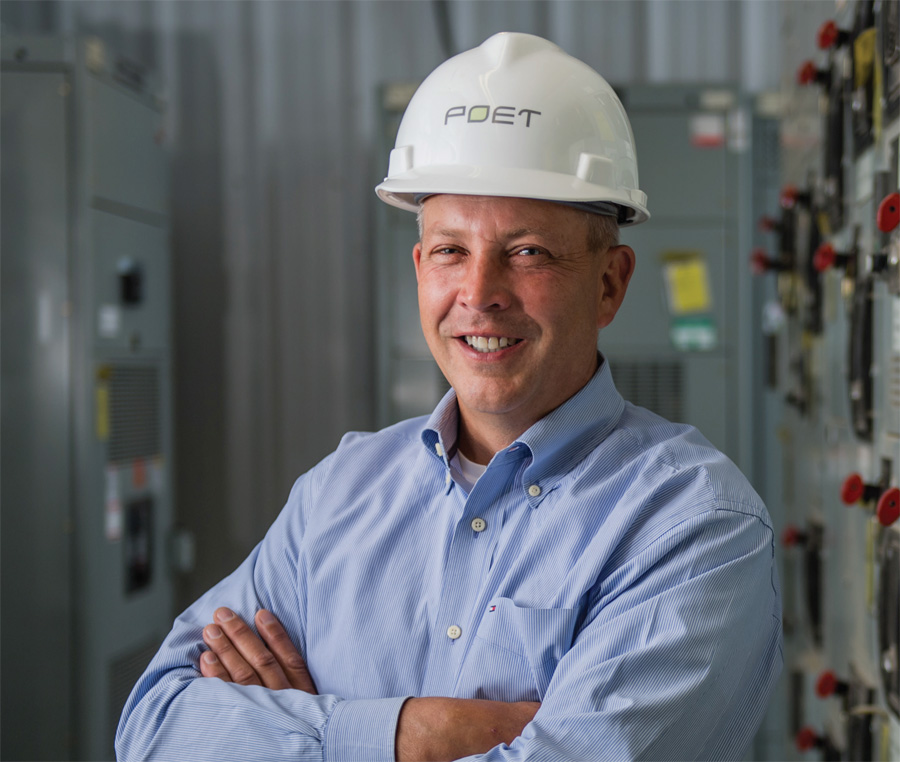 ---
In the late 1990s, POET — then Broin & Associates — was leading several bioprocessing facility startups simultaneously. The crew was small but mighty and dedicated. Many worked 12-hour shifts, 30 days in a row. Jim Hill was one of those crew members.
---
Steve Lewis, Vice President of Innovation, POET Research, recalls the first time he met Hill while delivering a lever controller.
---
"We met in Luverne. It was 100 degrees outside. When I met Jim and gave him the piece of equipment, he was sweating like crazy. I could tell he had been working probably 70-80 hours that week and not getting much sleep. That was my first impression of him: very hardworking, very practical, did whatever it took to get the job done. It was amazing at the time that we could get so much done with so few people. I think it was testament to the hard work and vision and leadership of some of those early guys, and Jim was a leader on the electrical engineering side."
---
Hill's resolve to meet a challenge hasn't changed.
---
Those who know Hill, who is now the Automation and Electrical Engineering Manager, POET Design & Construction, speak to his commitment to the company and his never-failing practicality.
---
He has the ability to see the big picture — and then make decisions to carry out the project, no matter what it takes.
---
Rod Pierson, Senior Vice President & General Manager, POET Design & Construction, makes the connection to Hill's military background: Hill has served with the Army Reserves since 1990. It takes discipline to complete a mission; the same goes to completing a project.
---
"Jim has always had a positive view on things. He's always looking for what's the best way we can make this work versus making it hard to do," Pierson said.
---
Those on his team say he's a good sounding board because of his downto- earth approach to situations.
---
"He doesn't quickly react to a situation. Jim lets it play out — he doesn't rush to conclusions," says Ben Blomberg, Lead Process Automation Engineer, POET Design & Construction. "He's always been optimistic about things working out for the company in general."
---
BEGINNINGS AT POET
---
Hill started at Broin & Associates in February 1997 when the biofuels industry was young and full of risk, opportunity and enthusiasm — qualities that attracted talented, energetic professionals like Hill to Broin & Associates.
---
"Really what attracted me was the passion of the leadership team," Hill said.
---
Hill started as a controls systems engineer working at POET - Bingham Lake. After working at Bingham Lake, Hill began working on the electrical side of the house with another new start-up in Preston, Minn.
---
The company then was akin to today's tech start-ups. Job responsibilities and duties flexed to meet the demands of a burgeoning company.
---
With only nine people in the office, Hill's job duties went beyond the confines of electrical equipment and utilities. Some days it was doing computer networking, or ordering software for computers or phone systems.
---
"Because the company was so small, you found yourself doing things you hadn't done before," Hill said. "You had to be a jack-of-all-trades. You had to adjust. Every day was a new challenge."
---
Lewis recalls that modus operandi. "Since we were a start-up, we did whatever it took to keep pushing the ball up the hill," Lewis said. "As a start-up, Jim had a very practical way of doing things that always took safety into account. But he got things done in a very rapid, reliable, practical way, and that always impressed me."
---
Lewis recollects start-up stories that involve Hill and others digging in to meet those challenges. "During start-ups you learn more about the engineering and the biology of the plant than any other time — not everything is engineered according to how it should have been."
---
"We said that Jim Hill reminded everyone of Michael Keaton from the movie 'Mr. Mom,' or Kevin Costner on a good day. We used to ask him, 'What are you going to wire that with, Jim?' And he'd say, 'Whatever it takes.'"
---
If a plant wasn't engineered exactly according to the original specifications, Lewis says, you had to find out what work was actually completed. "He was like a detective and he would go back in and find out what actually was done by the contractors."
---
Hill moved into a management role in 2004. Today, Hill oversees team members who work in electrical engineering and process automation. Cumulatively, the two groups have the most tenured employees in POET Design & Construction, a factor that team members say improves team cohesion.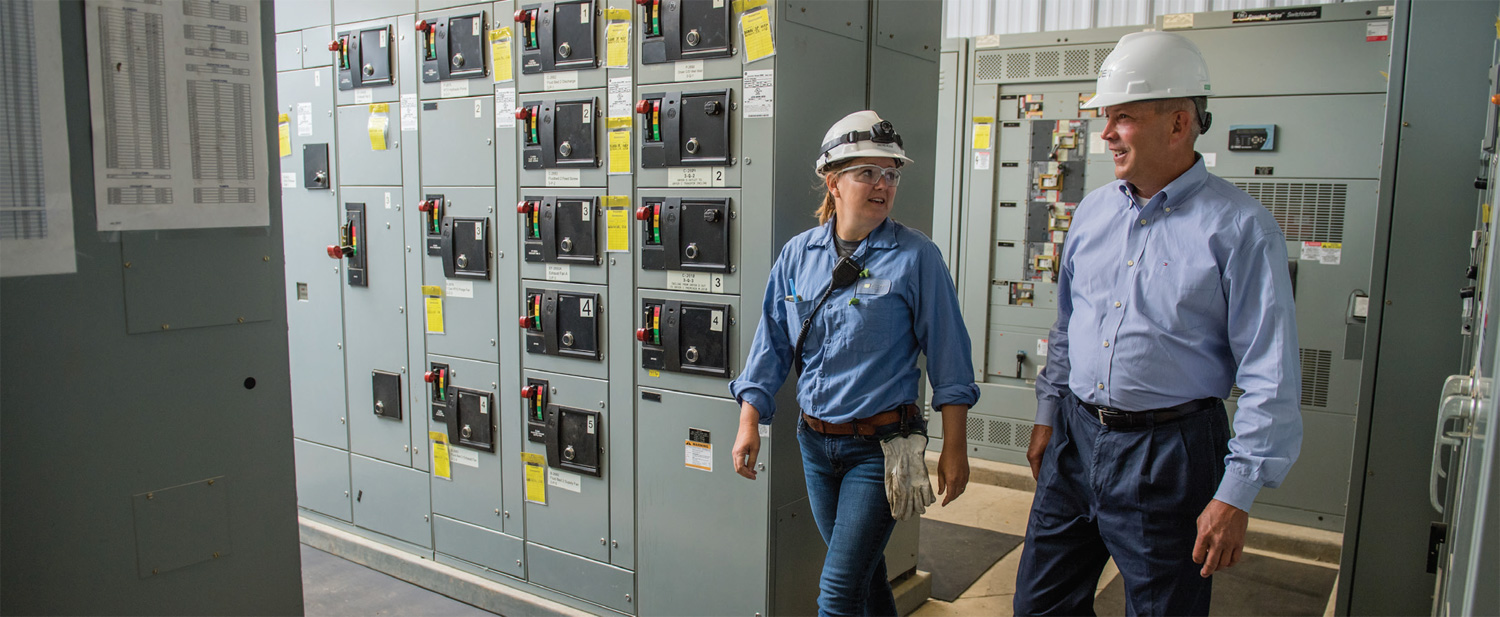 ---
The Process Automation team works closely with other engineering disciplines to configure the computer interface for POET bioprocessing plants to safely operate the facility automatically. The Electrical Engineering team's vast experience allows them to engineer and design the entire bioprocessing facility from the utility substation down to the lowvoltage subsystems, Hill noted.
---
Hill's team is also part of the site development committee for new facilities. They look at greenfield sites and evaluate electric utilities in the area to determine which ones provide the best overall electric rates or infrastructure to those facilities. Then, the team works on engineering for the plant on both the automation and electrical side.
---
"It still is incredibly exciting starting from a site development perspective," he said. "You go out and you assess multiple different areas and sites. You work with utilities. Once you pick a site, you actually start the engineering. Really the satisfaction is, once you're done, you walk away from the plant and you have an operating facility. To take a field and turn it into an operating biofuels facility is pretty exciting."
---
AN EMPOWERING LEADERSHIP STYLE
---
Hill's approach to management and his overall work style is residual from those early days when there were a handful of people at Broin & Associates, and you took on responsibilities earlier, and faster.
---
Team members say that one of his stand-out qualities is that he trusts employees to do their jobs.
---
Blomberg — who has worked with Hill since 2008 — recalls that Hill sent him to Mitchell, S.D., to do commissioning for the control system when he was new to POET and just 23 years old.
---
"He has the mindset that it's best for people to learn on the job and to give them latitude to make decisions," Blomberg said. "He gives people the benefit of the doubt. He gives you a chance to do it."
---
"That [his management style] is a testament to Jim's practicality," Lewis said. "I think he knows that no one individual can do everything. He's knowledgeable enough and confident enough in his abilities that he knows when to get out of the way and empower someone else to do their jobs."
---
Jennifer Jungemann, Electrical Engineering Designer III, POET Design & Construction, has worked for Hill since she started at POET in 2004. "He's laid-back and great to work for. He lets you do your job."
---
Hill is quick to say that his team is the best part of his job. "Each day has different challenges. They make coming to work easy; they make it exciting," he says.
---
For Hill, his work at POET today continues to reinforce that decision to start at the company 20 years ago.
---
"We're changing something. Most people in their entire careers don't get the opportunity to do this kind of work — the number of projects, the size of projects. That's exciting."
JIM HILL

---
HOMETOWN
Clark, S.D.

EDUCATION
BA, Science Electrical Engineering, Technology, Southwest State University

FAMILY
Son Eric (24) and daughter-in-law Ashley; daughter Lauren (22); son Jacob (20)

HOBBIES
Skiing, hiking, traveling
---