---
Thanks to collective industry voices and to our U.S. Senate champions — particularly Senators Joni Ernst (R-Iowa), Chuck Grassley (R-Iowa), Deb Fischer (R-Neb.) and John Thune (R-S.D.) — we have made great progress.
---
These champions have worked alongside POET to secure a stronger and more influential position with the U.S. Environmental Protection Agency (EPA) and the Trump Administration. Having strong Senate leaders has also enabled our industry to foster and grow new relationships with other members of Congress on both sides of the aisle.
---
Look no further than the EPA's recent action that officially denied the petition to shift the Point of Obligation to see how the work of these champions and grassroots efforts have made a difference. This petition would have moved the Point of Obligation from oil refiners to fuel retailers, potentially derailing our efforts to bring mid-level biofuel blends to consumers.
---
This is a crucial victory in our effort to bring more biofuel options to consumers and to give farmers a solution to the growing ag crisis.
---
Furthermore, EPA Administrator Scott Pruitt has outlined several additional commitments related to the Renewable Fuel Standard (RFS) and the biofuels industry. In an October letter sent to Senate biofuels champions, Administrator Pruitt noted the EPA is open to working with Congress to see if E15 could be sold year-round. Pruitt reiterated this commitment during a recent town hall event with local producers in Nevada, Iowa. He also said the EPA will not take any formal action to tie exported ethanol with a RIN (Renewable Identification Number).
---
While we still have work to do, Administrator Pruitt's comments show the traction we have gained so far, thanks to the collective work of our Senate champions and stakeholders.
---
This momentum is important. As farmers across the nation look to tighten their pocketbooks even more amidst depressed grain prices, our industry and our Senate champions have raised awareness of the importance of using more biofuels to solve this ag crisis. Increasing the public awareness of biofuels has not been easy and has required the industry to come together in an organized and collaborative way.
---
Fuels America, Growth Energy and POET PAC — the industry's largest political action committee — jointly defeated Big Oil in its attempts to gain traction with this Administration. Our industry's efforts give our advocates on Capitol Hill ammunition to fight back against an industry that is too used to having its way in Washington, D.C.
---
Thanks again to Senators Grassley, Ernst, Fischer and Thune for your leadership and continued support. We look forward to building upon the success of 2017 throughout the upcoming year!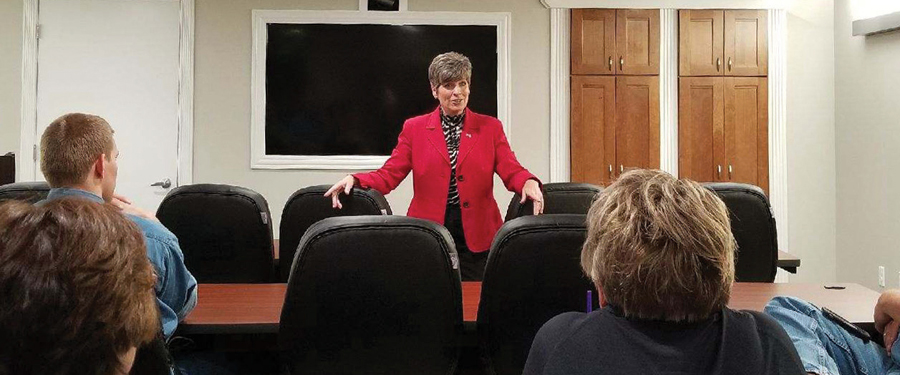 ---
2018 EPA RENEWABLE VOLUME OBLIGATIONS
---
The U.S. Environmental Protection Agency (EPA) released its final rule for the 2018 Renewable Volume Obligation (RVO). This number determines the minimum amount of renewable fuel to be blended into the U.S. fuel supply for a calendar year.
---
The final numbers brought mixed reaction from industry leaders. While industry officials and lawmakers were pleased with the 15 billion gallon requirement for starch-based biofuels, they expressed disappointment that advanced biofuel amounts remain relatively flat.
---
Sen. Chuck Grassley (R-Iowa) said the final rule "does little to encourage investment and growth in advanced biofuels."
---
Iowa Gov. Kim Reynolds said, "This announcement shows that EPA Administrator Pruitt is listening to our concerns and taking them into consideration. But it also shows that we have more work to do."
---
Thanks to our grassroots efforts and our bipartisan coalition of lawmakers, the EPA did increase the total number of cellulosic biofuel gallons from the proposed amount for 2018. But there is still a need to push for higher biodiesel and cellulosic amounts.
---
POET CEO Jeff Broin also expressed concern about the signal the final numbers for cellulosic biofuels sends to the marketplace.
---
"Biofuels are a critical component of the U.S. fuel supply, and President Trump and the EPA confirmed that fact. With starch-based biofuels remaining at full volumes, Americans will continue to benefit from cleaner air by replacing harmful cancer causing chemicals in gasoline, and stronger energy security by offering homegrown fuels that cost less," said Broin.
---
"Unfortunately, this final rule fails to recognize the enormous opportunity before us to harness our nation's vast cellulosic resources for higher-performing and lowercost fuels. POET remains committed to seeing the U.S. lead the world in cellulosic biofuel production. All groups that support cleaner-burning, renewable fuels should work together to help the EPA understand why a viable starch industry and aggressive targets for cellulosic and advanced biofuels are essential to safeguarding public health and improving the health of our planet," Broin said.
---
POET will start working to improve the EPA's understanding of cellulose in advance of the proposed 2019 volumes. Where others have seen challenges in cellulosic biofuels, POET sees opportunity.
---
The total number of renewable fuels is also higher than it was last year. Here's a look at the final numbers: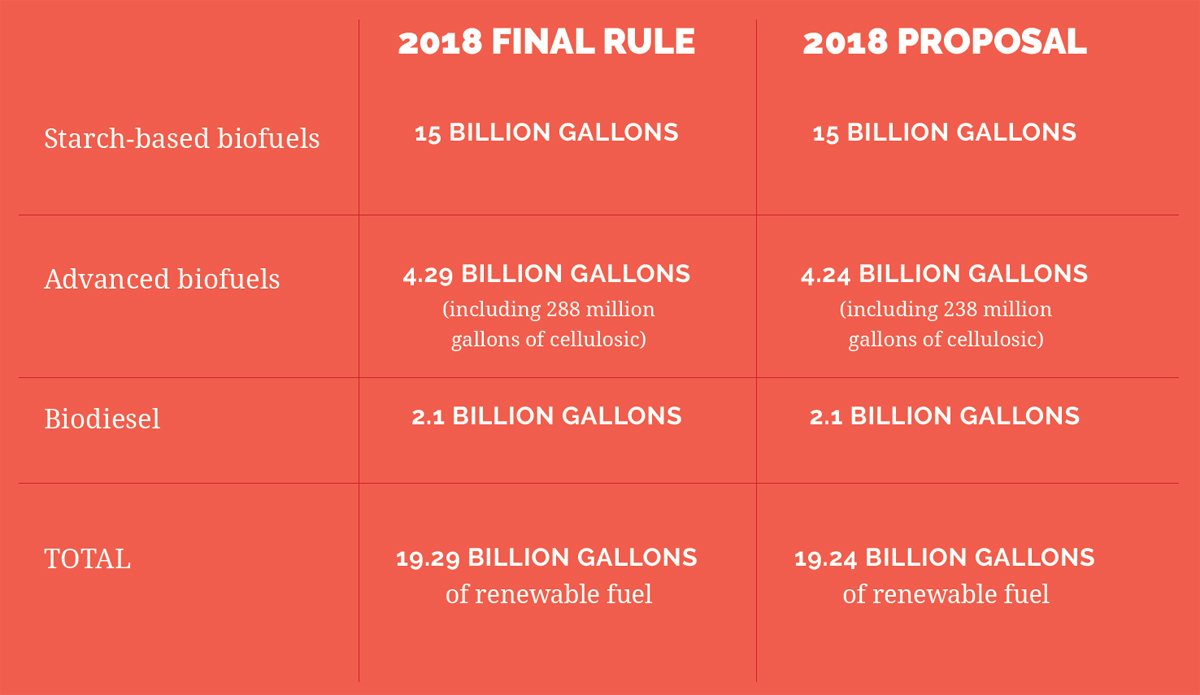 ---
---