---
With just 13 employees at a single ethanol plant in small-town Scotland, S.D., it's not difficult to imagine a company thriving on family values, an unwavering commitment to its cause, and a close, caring team. That was POET, at its inception in 1987.
---
Thirty-two years, 28 locations and nearly 2,000 employees later, those same values still hold strong. At its core, POET is a family-owned and operated company with a passion for creating a better world through innovation.
---
It's a substantial claim, but POET's team members are the first to stand behind it.
---
And when it comes to speaking about a company's family values, who better to speak to than POET employees who are also relatives?
---
The company's roster includes a surprising number of family members — from husbands and wives to parents and children, as well as multiple siblings.
---
Though most serve the company in a different department than their spouse, child or sibling, there's one thing tying these team members to each other — and it's not just blood.
---
They were all drawn to POET for its culture — one of innovation and a deep commitment to its employees' development and well-being. Whether it's a schedule that allows families the flexibility they need to stay healthy and connected, or an attitude in the workplace that inspires employees to go above and beyond, culture is a key element of POET's success.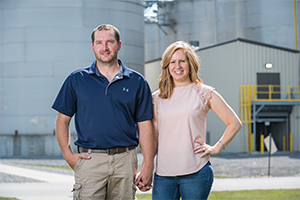 Nathan and Stephanie Bockrath
POET Biorefining – Leipsic, Ohio
Nathan Bockrath, Electrician, Stephanie Bockrath, Senior Accountant, POET Biorefining – Leipsic | photo by Wes Mosley
---
Nathan Bockrath and his wife, Stephanie, couldn't work in more opposite areas of POET Biorefining – Leipsic in Leipsic, Ohio. Nathan is an electrician, and Stephanie, a senior accountant.
---
In fact, it's common for the Bockraths to drive to work separately because of their flexible schedules or go multiple days in a row without running into one another at the plant. However, it's that flexibility that makes working at POET so gratifying for the couple.
---
"It's a pretty big advantage when you have a sick child at home," said Nathan. "Most parts of the plant are very flexible, so Steph could stay at home for the first part of the day while I go in, and then I'd come home in the afternoon so she can go into work."
---
The Bockraths attribute that flexibility to POET's family values.
---
"Everybody here realizes how important family is," said Stephanie. "It's really a family-oriented place, which makes it even better when you actually work together with your spouse."
---
Even if the Bockraths don't interact much at the plant, they appreciate the opportunity to check in on one another if they need to. Stephanie recalls a time last year when her mother was involved in a car accident.
---
"It was comforting just to have Nate be able to come have lunch with me," she said. "Having that support system right there is nice if you need to calm down."
---
Additionally, they appreciate the increased connection it offers them at home.
---
"You get a stronger understanding and respect for what the other person is doing every day," said Stephanie. "At previous jobs, you could tell each other what you did that day, but here it all kind of makes sense, and it actually gives me a better understanding of the plant."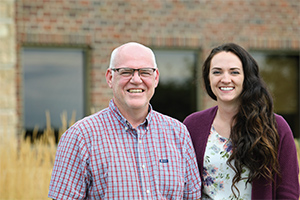 Rod and Lexie Pierson
POET, LLC
Rod Pierson, Senior Vice President & General Manager, POET Design & Construction and Lexie Pierson, IT Business Analyst | photo by Emily Spartz Weerheim
---
For father and daughter Rod and Lexie Pierson, working together at POET has provided an abundance of shared experiences, both personal and professional.
---
Rod, Senior Vice President and General Manager for POET Design & Construction, has been with the company for nearly 22 years. Lexie came on board two years ago as an IT business analyst, and the pair have enjoyed getting to see each other around the office.
---
According to Rod, the two occasionally attend meetings together.
---
"It's interesting in meetings, because I see her as a business analyst, but normally, of course, I just see her as my daughter," Rod said. "But it feels natural, and it always surprises me a bit when I leave the meeting."
---
Beyond the professional aspects of their time at work, the Piersons feel blessed to experience some of POET's unique company benefits together.
---
Both Rod and Lexie enjoy tending to plots in the company's community garden, and they also had the opportunity to travel to Kenya with POET's nonprofit organization, Seeds of Change.
---
"In June, we were able to go on the mission trip together, which probably wouldn't have happened otherwise," said Lexie. "Every year, POET sends a group to Kenya. It's a life-changing experience."
---
Seeds of Change is POET's global nonprofit, with a mission of supporting worldwide, sustainable development. The organization was created after POET's founder, Jeff Broin, and his family went on a mission trip to Kenya with a local youth group.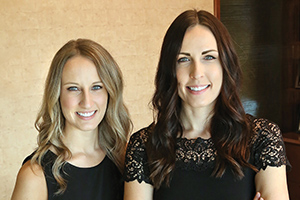 Alyssa and Miranda Broin
POET, LLC
Miranda Broin, Creative Coordinator and Alyssa Broin, Chief of Staff
---
As the daughters of POET Founder and CEO Jeff Broin and his wife Tammie, both Alyssa and Miranda Broin say that growing up, they did not expect to work for the company.
---
Alyssa, who serves as her father's Chief of Staff, actively pursued other professional opportunities before coming to POET, but after attending the Growth Energy Executive Leadership Conference in 2016, she discovered a new love for the biofuels industry.
---
"As kids, we watched our dad work extremely hard and put so much dedication into the industry, and I think we developed a similar passion just by association," said Alyssa. "Our parents always did a great job of keeping work and family separate, but looking back, I appreciate how they would discuss big-picture decisions with us and make sure we understood what was going on. They treated us with respect — even when we were very young — and I think it helped shape us into the people we are today."
---
Now Alyssa, who has been with POET for three years, works closely with her father, serving as his liaison for day-to-day affairs. She also works with POET's internal wellness program and charitable foundation.
---
Her younger sister, Miranda, joined POET last year as Creative Coordinator for POET's External Affairs & Communications team. As a co-founder of Seeds of Change, Miranda is also heavily involved in the organization and serves on its board of directors.
---
"It's a really neat dynamic, working with the family," she said. "For us, this isn't just an eight-to-five job; it's a 24/7 passion that is — quite literally — in our blood. We know the significance of the work POET is doing, and its mission is always going to be important to us."
---
Miranda says she has the opportunity to collaborate with Alyssa on a semi-regular basis, often on writing projects.
---
"Having been raised together, I think we have a similar way of thinking, which really benefits us now as we work together," she said. "As kids, we always had an idea of what our dad did, but I don't think we fully understood the gravity of what POET does until we were older. It's really been a privilege to have a front row seat to it for all these years."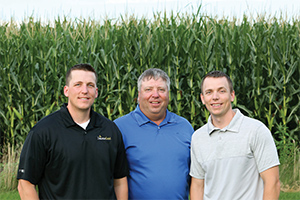 Trevor, Todd and Spencer Trevor, Todd and Spencer Freudenthal
POET Biorefining – Leipsic, Ohio
photo by Emily Spartz Weerheim
---
When it comes to experience at POET, the Freudenthal family runs the gamut.
---
Todd, Commodities Manager at POET Biorefining – Mitchell, has been with the company since 2006 but has managed elevators since he was 21 years old.
---
His older son, Trevor, who currently works out of Sioux Falls as Director of Credit and Financial Analysis, has experience dating back to his teenage years in 2007 when he spent the summer working in maintenance at the Mitchell plant. Trevor also interned at POET during college, and worked part-time for the company while in graduate school. In 2012, he was hired full-time as a financial analyst.
---
Trevor's younger brother, Spencer, was hired in 2019 as a Logistics Coordinator at POET Nutrition, and it was his family who encouraged him to apply.
---
"It's the only place I've ever really known," said Trevor. "The family-owned business speaks volumes, and the values of the company and the progression that you can have within POET is great. We have positions in research, management, marketing, legal, HR — you can really go anywhere you want to with a good work ethic."
---
For Spencer, that ability to work at the same company as his brother and father, who have always been in different fields, was something he never expected.
---
"You just don't think those positions are all going to fall under the same roof," he said.
---