---
With its 1.7 billion gallon annual production – enough ethanol to fill 2,600 Olympic swimming pools, float seven aircraft carrier hulls or create similarly incomprehensibly mammoth measures – POET is among the world's preeminent ethanol producers. It is also a driving force in advancing the science and technology of biofuels. POET's history gives insight into how it got where it is today. The company's genetic code features agile learning, meticulous planning, an unblinking eye on efficiency and quality and excellent timing.
---
But a final attribute is the lifeline that allowed POET to leverage all those advantages, and it goes all the way back to the earliest days of the Broin family in Scotland, SD.
---
Boldness.
---
POET's founders put their family legacy on the line to bring their vision for a renewable fuels industry to reality.
---
Throughout the 1980s, ethanol was still licking its wounds as the first generation of production facilities had fallen victim to unfavorable markets, costly and inefficient fermenting and production processes and failed management. "It had come out of the 1980s beat up and bloody. The whole industry had a lot of potential. But it wasn't quite there," remembers Dennis Everson. He is a member of First Dakota National Bank's board of directors and was formerly president and manager of the bank's agri-business division.
---
In 1987, in this uncertain environment, Lowell Broin and his sons Rob and Jeff partnered to buy a bankrupt ethanol plant in Scotland at an auction. Their plan was to bid on equipment that could be transported from South Dakota to an existing small plant on the Broin's Minnesota dairy farm or, if the price was right, to acquire the entire Scotland operation. In a brochure announcing the auction, "the pictures made it look like a very nice facility," Jeff recalls.
---
At five cents on the dollar, the price was right, according to Jeff. Rob recalls the Broins putting four times what they paid for the plant into rebuilding it. Had this not worked out, it was not an investment the Broins could have simply walked away from. "We leveraged the family farm to get that done," says Jeff. "It is a Century Farm, and it was definitely at risk in this venture."
---
"There were some scary times there knowing the farm was backing it up," adds Rob.
---
The auction photos advertising the plant flattered it. "A lot of stuff was in need of clean up and repair. It had been sitting there for six years," says Rob. A bidder the Broins beat out for the shuttered plant had figured its best use was to scrap the equipment and use it as a corn storage facility.
---
James Putnam, of Armour, SD, was a new member of the South Dakota House of Representatives when the Broins came to Scotland. Over the next 26 years, as a member of the House and Senate, he was a key legislative ally as the Broins sought to build a new renewable fuels industry.
---
Putnam recalls the Broins as they sought to revive ethanol production in Scotland. "I remember the dad with young fellows. They knew nothing but work."
---
At 22, many people find themselves challenged to try something new. Jeff Broin took it to a new level. He was just out of college and beginning a career in banking as a loan officer when his family bought the Scotland ethanol plant. He was summoned home shortly after the auction for what he thought would be a weekend of work on the family farm. Instead, his parents presented a lifechanging proposition. Would he become general manager of the ethanol plant?
---
"I was a young man, adventurous. I was willing to try anything once." Rob, 27, soon followed him from Minnesota to South Dakota for a nine month stay to rebuild the plant after harvest concluded on the family farm.
---
Based on their respective talents, Jeff pursued financing and business for the venture, as well as handling the politics. Rob, who had largely built and operated the family farm ethanol plant, took on the task of modifying and improving the equipment and the technology at the Scotland facility.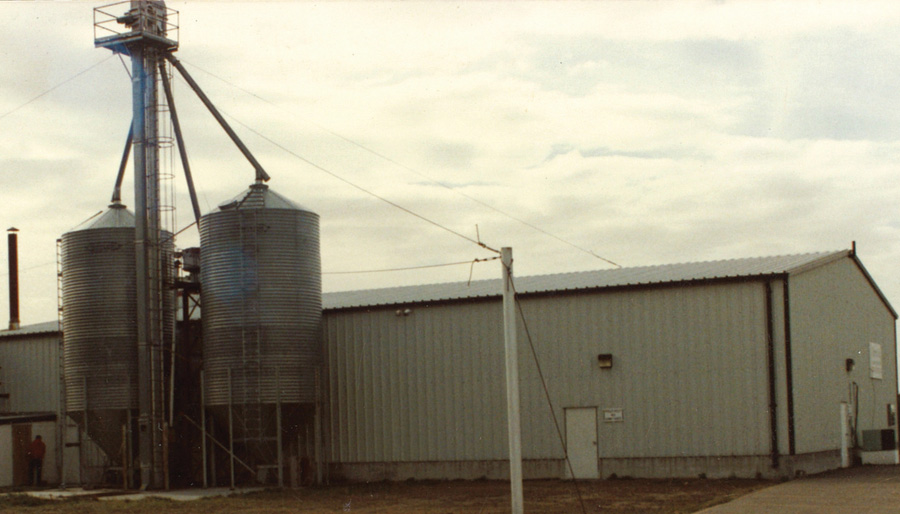 ---
Both were daunting challenges.
---
"Nobody wanted to give us insurance," Jeff recalls. "We couldn't get bonding," for the federal alcohol tax. "Everywhere we turned there was a roadblock to the next step." A Nebraska creamery owner the Broins met at an auction provided $250,000 cash to back up the bond. Acquiring used equipment from other defunct ethanol plants, closed creameries and from the Schlitz Brewery in Milwaukee, WI that was going out of business, provided material for the needed reconstruction and eventual expansion of the Scotland plant.
---
An unexpected spike in the corn price drained the Broins' cash reserves and nearly derailed their venture just as it was getting under way. "We got a big scare, but it came back down," says Rob of the corn price. And the distillers grains and thin stillage were sold to dozens of local and regional dairies and feedlots. It took time and perseverance to get the product sold so the plant could operate.
---
The Broins' dogged determination, and Jeff's persuasiveness, helped them gain access to needed capital through local bank financing, a loan from the South Dakota Revolving Economic Development and Initiative fund and a 20-cent per gallon state incentive for ethanol.
---
"They put on their good pants and shirts and came to Pierre to talk to the legislators," Putnam recalls. "No one was real happy about the subsidies, but they had a good plan."
---
Having had bad experiences with past ethanol failures, legislators were skeptical about supporting the Broins with an economic development loan and incentives, Putnam says. But Jeff and legislative supporters like Putnam were able to get new Gov. George Mickelson behind the Broins' venture.
---
"The governor looked at the figures himself. He said 'let's run a bill and see what happens,'" Putnam said.
---
Everson, at First Dakota, attests to Jeff Broin's ability to make a compelling case for the Scotland plant.
---
"He walked in with a plan. 'Here's what we do. Here's how we ramp up. This is what we need today. If it works, this is what we need tomorrow,'" Everson says. "He had an answer to all my questions. It was hard to say no to such a plan."
---
Everson even took the unusual step of bringing members of the bank's board of directors to Scotland. "It's the only time I've ever taken the board to a borrower."
---
But how many borrowers are willing to back their belief with their family legacy?
---
"You didn't have to be around Jeff and Rob very long. Their enthusiasm was contagious," says Everson.
---
Frank Kloucek, a Scotland farmer who served in the South Dakota House and Senate from 1991 through 2012, was another supporter of the Broins' efforts. Kloucek also says he got the first load of livestock feed, a byproduct of ethanol production, from the Scotland plant. Kloucek remembers the Broins had to annually overcome opposition to state funding for the decade they sought it.
---
"The Legislature was always behind, then on the last day, they'd find some money to fund it," Kloucek says of ethanol subsidies. He also recalls Jeff appearing at a 7 a.m. committee hearing to fend off opponents. "I don't know if he drove all night. He was there."
---
Jeff calls the economic incentives "extremely important. We wouldn't have made it financially without them." However, "all those years, not once was it included in the governor's budget. Every session we would have to work with key legislators to figure out how to fund it. The South Dakota Corn Growers, and one farmer in particular, Orrie Swayze, a Wilmot farmer, were always there to help."
---
Eventually, the late Jeff Fox, first a lobbyist for the South Dakota Corn Growers Association and later Vice President for Legal and Governmental Affairs for POET, devised a plan that would create a mechanism that tied the per gallon subsidy to the gas tax, which provided structure to the effort to secure funding. "But every year we would have to go back and lobby and testify to make sure it stayed in place."
---
MAKING IT WORK
---
Rebuilding the Scotland plant presented Rob challenges equal to his brother's efforts to finance it. To keep costs down, the Broins purchased as much used equipment at auctions as they could. Still, the Broins had to replace much of the existing plant. A system commonly used in ethanol plants built in the 1970s and 1980s to upgrade alcohol proof from 190 to over 200 "didn't really work," says Rob. "I knew that would have to be replaced."
---
A vital, and expensive, centrifuge system disintegrated in the first few weeks of operation and needed to be replaced.
---
"We didn't have a good backup plan for that."
---
Rob had been instrumental in building the ethanol plant on the Broin farm. He gained valuable insight there.
---
"I thought ethanol was like agriculture. The production happens in the fermentation. The yeast do the work. They're like livestock." Growing up on a dairy farm, he learned the importance of taking care of cattle. In making ethanol, "you need to take care of your yeast."
---
Rob returned to farming in Minnesota after the initial startup. Two years later, the decision was made to expand from one million to three million gallons per year, and Rob returned to Scotland permanently. In the months of reconstructing the original plant and subsequent years of expanding it, Rob remembers "we were just solving problems every day, finding ways to make things work better.
---
"It was a really fun time. It was a new industry. There was a lot of opportunity."
---
Younger brother Todd Broin took a year off from college to work on the farm to support the venture, later moving to Scotland after college, first as a production manager, then to apply his computer science degree to develop computer control systems for the ethanol production process. It was an example of the drive toward efficiency that characterized the Broins' success.
---
At the urging of Steve Lewis, a fermentation specialist from Genencor who is now POET's Vice President of Innovation, and Deb Roth, now Plant Research Lab Director at POET Research Center, the Broins leased a High Power Liquid Chromatograph. It was an expensive addition to an ethanol plant in that era, but it made the Scotland plant more efficient than its competitors.
---
When they began making ethanol in Scotland, the Broins also learned about managing people. They originally hired 13 employees, and Jeff said over the first years he came to realize treating them as members of a team was the best way to draw out their talent and loyalty. "We couldn't afford to pay people much at the beginning."
---
Rob chuckles. He had colorful memories of the original operations crew.
---
"It was a young crew, and we didn't have a lot of experience being people managers. There were some colorful moments, that's for sure."
---
The success of the Broins' venture in Scotland helped spur the creation of farmer-owned ethanol plants in South Dakota and across the country, Putnam stated. Kloucek calls South Dakota's financial backing for the Broins as they were establishing themselves "maybe the best economic investment in the state's history." And Everson says, "Jeff and his two brothers literally brought new technology to ethanol that made it viable. They were the pioneers of the ethanol industry as we know it today."
---
From the original Scotland production facility, POET has grown to 28 plants. Jeff says "eventually we learned what was working at Scotland and that helped us." The Broins branched out into building and managing ethanol plants through POET Plant Management. Divisions were added for marketing ethanol and coproducts, as well as a division for research. The Scotland plant has become POET Research Center.
---
At Scotland now, state-of-the-art technology in biofuels production is developed and taken to commercial scale in the two pilot plants located there as well as the original plant, now 8 million gallons per year in capacity.
---
"We have a lot of flexibility. No other company in the industry has the ability to do that scale of research the way we do. It's a major strategic advantage for all of the POET plants," says Jeff.
---
The Broins' decision to risk the legacy of the family farm to make ethanol in Scotland is the cornerstone of POET today.
---
This is Rob's take on the Scotland era: "We were at the right place at the right time with the right people with the right talents. God's hand was on it."
---
"What we started in Scotland led to a major impact on worldwide commodity and land prices," says Jeff. "There were so many that played a role in this venture and we wouldn't be here without them.
---
To all of you I can only say thank you."
---
--
---
This is the second part of a series on the History of POET. The first installment, Ethanol Pioneers, can be read here:
---