---
A bushel may or may not be a familiar term of measurement to you, but for a farmer in Kenya, a bushel represents a unit of potential. A bushel translates into dollars that provide education, resources and training.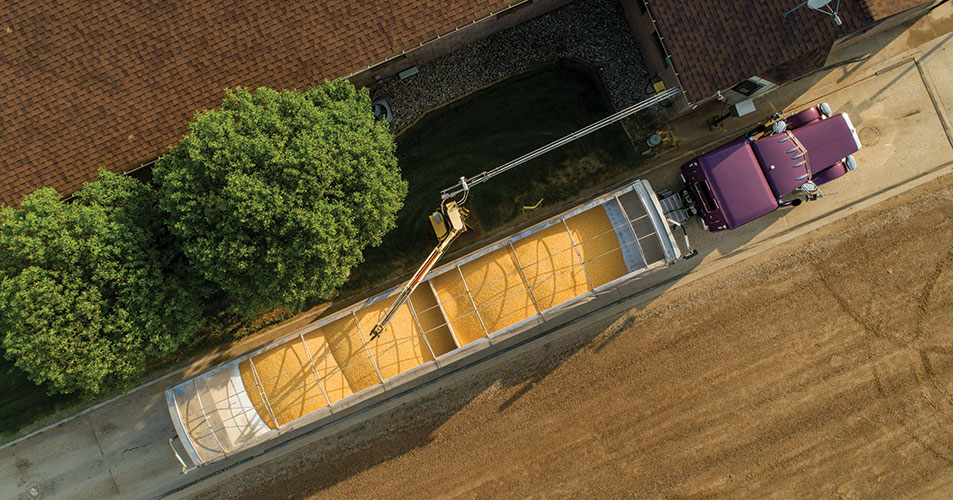 ---
Here in the U.S., when a farmer donates a gift of grain through a Seeds of Change initiative called Grain for Change, those bushels of corn can be transformed into dollars that support agricultural projects in Kenya. As these donations accumulate, they begin to transform lives and communities in Africa, uniting farmers in the U.S. with farmers across the world – and it all starts with a bushel of corn.
---
POET's global nonprofit, Seeds of Change, has a vision that never tires of expansion. It aspires to join with as many people as possible, increasing its expansion by inviting others to become part of the impact, creating a meaningful and sustainable difference in the lives of individuals around the world.
---
With this goal in mind, Seeds of Change started a program in the fall of 2018 called Grain for Change. The initiative was specifically created to encourage farmers in the POET footprint to support farmers in Kenya, which is home to Mission Grow — one of the core programs Seeds of Change implements that focuses on developing sustainable agricultural practices for sub-subsistence farmers. Through Mission Grow, local farmers learn how to implement simple, effective farming techniques that create opportunities for them to feed their families and have excess produce to sell for supplemental income.
---
One of the most astonishing things about Mission Grow is that it creates transformational change for an average of just $9 per person! This change flows into families and contributes to improved nutrition and school fees for children. It ripples into communities when farmers are able to spend money at local businesses, and surges through regions with the potential to shape a healthier landscape and greater economic opportunity for generations to come.
---
This transformation is evident when you visit Oliver's farm. Oliver lives in Western Kenya and has implemented many of the improved farming techniques taught through Mission Grow over the past several years. The improvements extend far beyond corn alone; among the many products on his land you will find sweet potatoes, pigeon peas, grevillea trees, arrowroot, brachiaria (a grass for dairy cows), pigs, chickens, cattle and more!

---
He has not only expanded his operation but has also diversified, which will protect him in the event of drought or disease. He has plans to start a small dairy and meat cooperative for his local community members to take advantage of as well. It is clear that Oliver has been empowered by the resources provided to him through Mission Grow. He passes this knowledge on to his neighbors, enhancing their farming operations and bringing greater wealth to the entire community.
---
Oliver is not alone in his success. All over Kenya, farmers like Oliver are benefiting from the resources and education provided through Mission Grow — none of which would be possible without the support of many faithful donors and partners. As Seeds of Change looks to expand its positive impact, initiatives such as Grain for Change are imperative for spreading awareness and getting local communities involved.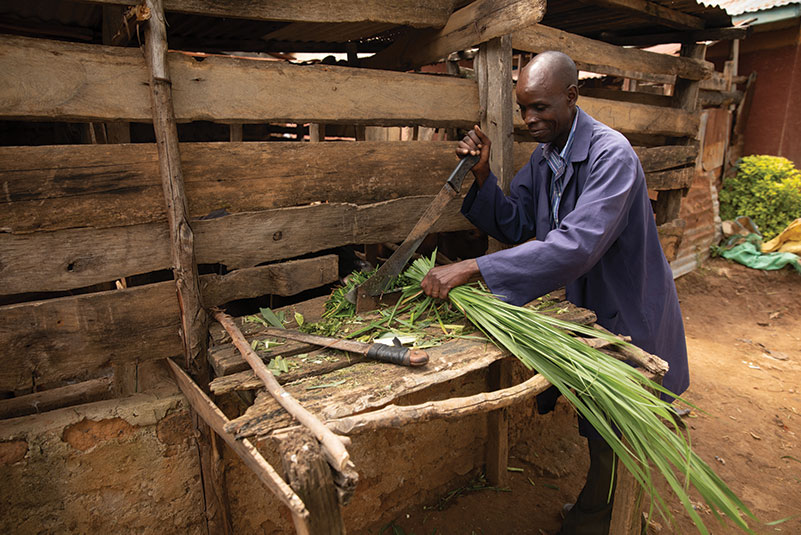 ---
Across the Midwest, POET biorefineries are actively working to promote Grain for Change. Today, you might notice something new at POET's biorefineries when you drive past or pull up to drop a load of grain. Three large signs advertising Grain for Change can be found at most locations, either near the entrance road or by the grains building. These are a visual representation of the opportunity that exists for POET producers – sharing the need, showing the impact a bushel of grain can make and asking for partnership. Each participating biorefinery also has a corn cob 'thermometer' to proudly display how many bushels have been donated from the location's producer network and the resulting dollar amount.
---
Kelly Kjelden, the General Manager at POET Biorefining – Groton, says that for his community, the main way to garner participation is awareness of the program and sharing with producers how far a dollar can go through Grain for Change, noting, "Just a few bushels can make a huge difference." That might be an understatement; if only 1% of the corn brought in across the POET network was donated, Grain for Change could help an additional 370,000 farmers!
---
Donating is a simple process for anyone who currently sells grain to POET. Producers simply tell the scale master the percentage of corn that they want to donate to Grain for Change from each load they bring in. The donated amount—which can be a one-time gift or a small percentage of each load that comes to the plant — will then be deducted from the total grain weight. The percentage of grain is translated into dollars, based on the number of bushels and the price of corn for the day.
---
100% of the donated dollars go directly into Mission Grow programming to provide education and resources for Kenyan farmers. Another amazing thing about Grain for Change is that each dollar donated is matched by POET over the next three years! Not only are farmers in the U.S. able to make an impact, but they can double that impact by donating even a small amount of grain. There are also tax implications for producers, as they are able to report the contribution and deduct the cost of production without assuming the income tax on donated bushels.
---
Overall, the program has been a unique way for farmers to get involved and make a difference. Commodity Manager Jason Wambach said, "This is a bright spot for producers; to be able to help people out on an entirely different continent. This program provides a fun and interesting opportunity for our producers to participate."
---
For Frank Martin in Missouri, the choice was simple. "There are a lot of people that are needy in the world and we are not needy for the most part; it was a way to share some of my bounty. I really appreciate what the Broin family has done to set up something like this to help out those less fortunate."
---
The power of Grain for Change comes alive through the partnership with POET producers. With many people helping out in even a small way, the enormous task of changing people's lives in a meaningful way becomes far less daunting. And a simple bushel of corn turns into unlimited potential to grow change for individuals across the globe, for generations to come.
---