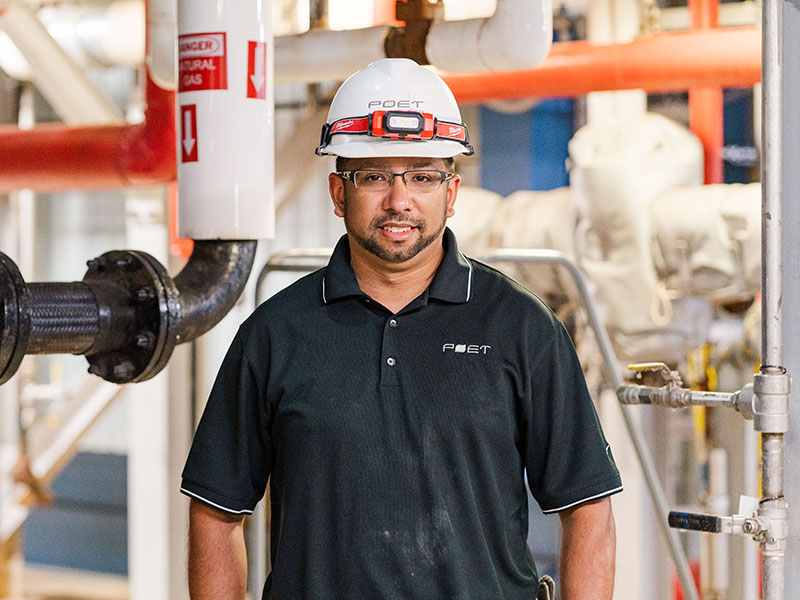 ---
Most of us have gone bowling at least once in our lives.
---
It's a familiar process. Select a ball that's not too light but not too heavy, wait your turn, approach the lane and aim. For most of us, knocking down the pins takes a little bit of skill and a healthy amount of luck. We cross our fingers and hope for the best.
---
For JoJo Ramsey, however, there's a little more science — not to mention almost 35 years of practice — behind the strike.
---
Ramsey has invested countless hours into his decades-long bowling career, between practicing, studying various techniques and competing.
---
In 2019, he even convinced his employer, POET Bioprocessing – Fostoria, to sponsor his local team. This year, his bowling prowess once again landed him the opportunity to compete at the 2021 USBC Open Championships in Las Vegas. Ramsey has attended the competition six times before, and this year he was determined to find success.
---
This spring, in a competition of over 10,000 teams, his crew placed within the top 250 — an undeniably impressive feat.
---
Ramsey's hard-working spirit and commitment to his goals — whether in extracurriculars or on the job — are part of what makes him an excellent POET team member.
---
Three decades of bowling
---
Ramsey has been bowling since age three, when he would join his family at the local alley in Fostoria, O.H.
---
"It was something that my dad and all of his brothers did, so I just grew up around it," Ramsey said. "One of my favorite childhood memories is bowling for leagues on Saturday mornings. I've always been a really competitive bowler, and that's actually what I wanted to do professionally."
---
It was his senior year of high school when Ohio brought bowling in as a school-sanctioned sport. His team ended up winning the state championship that year.
---
"It was awesome to be a part of that very first year they brought bowling to high school," he said.
---
Into adulthood, Ramsey has continued to dedicate time to the sport, competing in various leagues, including as part of his POET-sponsored team. He puts in time at the local lanes at least every other week, and he even watches bowling tutorials on YouTube. His favorite channel is called "Brad and Kyle," which features tips from professional bowlers and has close to 100,000 subscribers.
---
Ramsey explains that there's a lot more to bowling than simply launching a ball toward some pins. A successful game is the result of careful planning and precision.
---
What many people might not be aware of is that no two lanes of bowling are alike. Bowling alleys are able to set the difficulty of their lanes using a special oil pattern. Mineral oil is used to condition the wood and protect it from the wear and tear of heavy bowling balls, but the way in which it's applied is set by a customizable machine. This allows more oil to be applied in certain spots, creating a unique pattern that affects the direction and speed at which the balls roll.
---
Additionally, every time a ball rolls over the lane, it adjusts the pattern, changing those elements ever so slightly over the course of a game. Serious bowlers like Ramsey have learned how to recognize the oil patterns and adjust their strategies accordingly.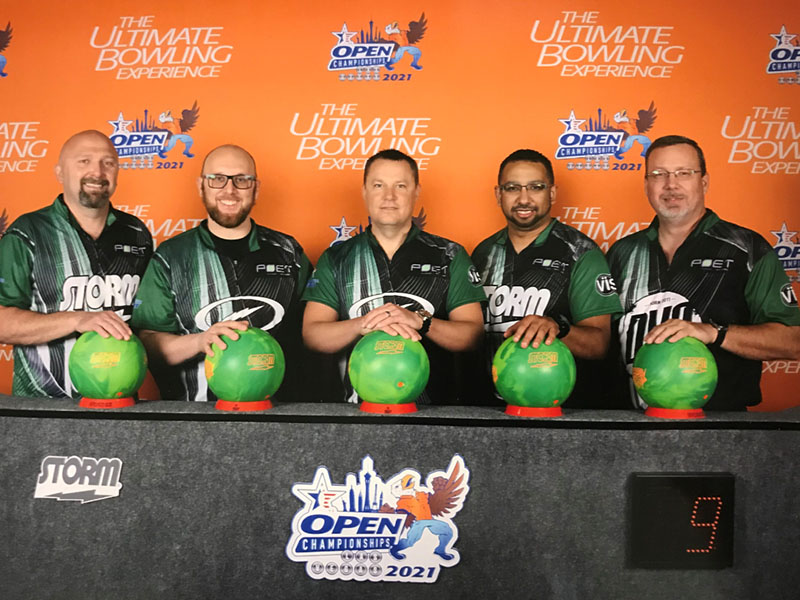 ---
"It changes every time somebody throws a bowling ball, so you constantly have to adjust to this invisible force," he explained.
---
"How your ball reacts to the lane will give you indicators such as which bowling ball to use or where to stand."
---
At a typical local bowling alley, the oil patterns aren't particularly challenging, but in the arena of the USBC Open, it's a different story.
---
"The Open Championships are very tough. It's not your neighborhood bowling alley where you have some room to miss your target by, say, four or five inches, and you can still strike," he said.
---
"At the Open Championships, the target to strike is narrowed down to an inch or so."
---
With all of these strategies dialed in, it's fair to say that Ramsey is a dedicated student of his craft. Ramsey's skills as an engineer and attention to detail make him an excellent teacher as well.
---
Leading his team with the heart of teacher
---
As a shift supervisor at POET Bioprocessing – Fostoria, Ramsey manages a crew of three other team members who handle plant operations.
---
"If any operational challenge comes up, we work through it as a team," he said.
---
Ramsey started at POET just over ten years ago as a Technician 1. He then received his boiler's license, and he has been in the role of shift supervisor now for over five years.
---
"Working as a supervisor, I've learned that I love to teach. I love helping people grow and get better at their jobs," he said.
---
According to Dakota Sudlow, General Manager at POET Bioprocessing – Fostoria, supervisors are the first line of leadership.
---
"They're the ones that are here, day in and day out, nights, weekends and holidays. We depend heavily on them to keep things running smoothly," Sudlow said.
---
Part of keeping things running smoothly is being a strong leader and a patient teacher for the team.
---
"I think JoJo excels at teaching new team members on a one-on-one basis. He does a great job of being straight and upfront, and he's always willing to help anyone who's asking," he said. "Creating a culture where people are willing to help one another is something we're incredibly proud of here at POET. Whether it's employees who are eager to teach and to learn from one another, or a plant that's willing to support its team and the wider community through sponsorships or volunteer activities, it's all part of what makes POET a special place to work."
---
"The team and culture at POET, especially at our Fostoria plant, is second to none,"
said Ramsey.
---
"It's really like a family, especially between the crews and management. Everybody gets along and is super supportive, and the company is great about work-life balance. That's something that I really appreciate."
---