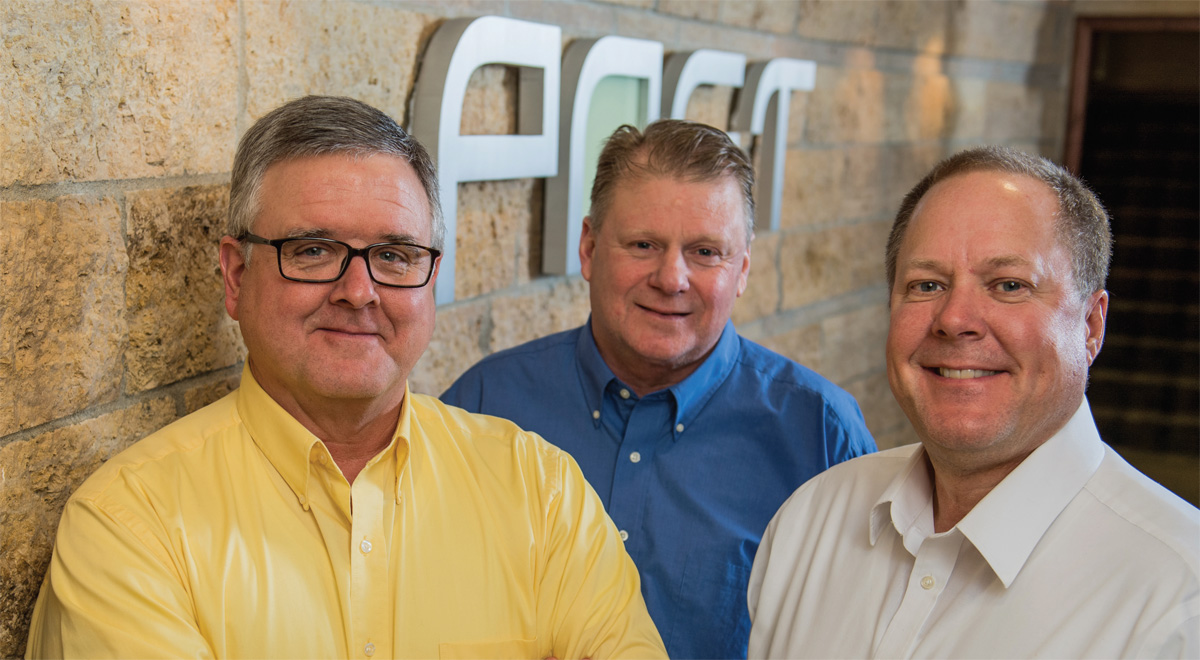 ---
During the 1970s, when Daron Wilson was considering his college major and future career options, the dairy manufacturing program at South Dakota State University (SDSU) in Brookings, S.D., had several selling points: It was a well-regarded sciencebased program and had internship opportunities aplenty. Plus, at the top of the list, the program boasted a 100-percent job placement rate.
---
That sealed the deal for Wilson, who today is the General Manager at POET Biorefining – Emmetsburg. "It was tough in the 1970s to get a job. It was a much different time — the placement was a big deal," Wilson says.
---
Wilson wasn't the only POET general manager who saw the benefits of SDSU's dairy manufacturing program at that time.
---
Wilson, along with Kelly Kjelden (who today is General Manager at POET Biorefining – Groton) and Blaine Gomer (General Manager at POET Biorefining – Big Stone) all studied dairy science as undergraduates at SDSU and graduated in the 1980s. Kjelden and Wilson knew each other before college and went to high school together in Huron, S.D.
---
At SDSU, Kjelden started out in the wildlife and fisheries department, Wilson started in pharmacy, and Gomer started in engineering before making the switch to dairy technology. Wilson and Gomer were even in the same dairy technology classes together while at SDSU.
---
In the dairy manufacturing program, they learned about everything from plant sanitation and food safety, to how to make cheese and ice cream while working in the on-campus dairy plant, to the distinguishing characteristics of a superior mozzarella cheese.
---
"With the plant on campus, you had a good idea about whether you liked it or not. You weren't guessing what your job might be like; you knew what it might be like on a larger scale," Wilson said.
---
The three general managers ended up following similar career paths immediately post-graduation working for dairy marketing cooperative MidAmerica Dairymen (now known as Dairy Farmers of America), and eventually each landed positions as general managers for POET (then- Broin Companies) in the 1990s when the company was starting dozens of bioprocessing plants at breakneck speed across the Midwest.
---
The skills the three learned on the job in the dairy industry led to positions leading plant operations at dairy plants mostly while still in their 20s. Later, that skillset helped them land jobs as general managers at POET. There are many similar elements in manufacturing dairy and ethanol, Wilson says.
---
"There's a connection between the dairy industry and ethanol: there's biological activity; there's fermentation. Manufacturing ethanol is similar to manufacturing milk," Wilson says. "You're using a lot of the same principles: temperature, pressure, vacuum, pH. It's a 24/7 operation. We came from a 24/7 to a 24/7."
---
Along with their common educational and work background, the three also have a strong bond that developed not only through hours of microbiology labs at SDSU but also the rigors of being general managers for start-up bioprocessing plants.
---
Today, the bond that goes back several decades to their days at SDSU means that they talk weekly at work and bounce ideas off each other. They also spend time together socially for family activities and events. Kjelden and Gomer have attended NASCAR races together with their spouses.
---
Their shared background has cultivated an immediate trust between the three that has great value in a business setting. "There's knowledge, confidence and trust of situations. You know that if you have a question, you can call one of those guys and bounce it off them," Kjelden says.
---
"If something happens at a plant, we talk with each other and ask, 'What do you think?' Our experience levels are almost identical. We've all gone through a lot in our careers," Gomer says.
---
STARTING AT POET
---
When each of them started as general managers at POET, there was no manual or timeline for how to hire employees or what to do in advance of the plant startup. They just had to hit the ground running. At that time, the bioprocessing plants were coming online around the same time, which proved beneficial because other general managers had recently gone through the process.
---
"You depended heavily on previous general managers," Wilson says.
---
Gomer worked for Dairy Farmers of America (DFA) for 16 years at five different locations before he started in 2002 at Big Stone, which was plant number seven at the time. The opportunity at POET gave him the opportunity to move back to South Dakota after working his way up as a regional manager at DFA.
---
Kjelden worked for Dairy Farmers of America in Wisconsin and Nebraska and worked in Hartington, Neb., with Gomer for several years before starting at POET in 2003. After Gomer started his role at Broin Companies, Kjelden stayed in touch, learned about the company and started to see the great possibilities there for his career, including the opportunity to be a general manager at the Groton plant. "There were plants being built: Coon Rapids, Chancellor. I thought, 'Groton! That's so far north.' And that was 15 years ago," he says, reflecting on his tenure at POET so far.
---
Wilson worked for DFA for almost 13 years and at four different locations before working for six years for a food and feed supplement company. In 2004 he started at POET after consulting with both Kjelden and Gomer.
---
"It was nice to have an inside perspective and a good reference," Wilson says. "The rest is history, I guess. Like Blaine, our office was in the back of a chiropractic building. I came in with a pencil and a notepad and started hiring people. I called the other GMs and frantically took notes. To get the opportunity to start up a plant was an unbelievable experience."
---
The three each tell similar stories about working round the clock to get everything started.
---
"I went up to Big Stone for a few days when I first started to correspond with Blaine," Wilson says. "I remember you [Gomer] saying, 'Go buy a calendar. Rip off every page. Put it on the wall. Put an X on the start date and work backwards from when you need to get people trained.' This was November; the plant was to start early March. I did that. I put an X and started working backwards. I thought, 'Oh man. I need to get some people hired fast.'"
---
Gomer recalls sorting resumes while working out of a hotel for two and a half months. "I can remember every night, the hotel was covered with resumes and trying to sort through the piles."
---
Wilson chimes in: "I had three piles: 'do not pursue,' 'maybe' and 'yes.' The good thing was that you got a lot of resumes."
---
Today, the people and the culture of the company are two of the top reasons why each have stayed general managers at the plants they first helped to start.
---
While POET today is a much different company than it was when the three started, the company values — teamwork and communication — have stayed the same, they note.
---
Gomer, Kjelden and Wilson are still drawn to those tenets of the company and also state that the dynamic aspect of the company keeps their work engaging.
---
"I like the idea of a company that is constantly growing, very aggressive, beating the industry, always looking to be better," Gomer says. "Day in and day out, you're focused on that all the time. It makes time go by fast."
---
"If today we perfected X, tomorrow we'd try to make it X plus 1," Kjelden says. "If you turn over the rock and look for a success, you turn it over again and look for the next success. It never stops."
---
What stands out for Gomer is the opportunity to work for an industry and what it stands for: clean energy, renewable fuels, American-made, he says. "It's agriculture. We all grew up in the Midwest and have agricultural roots. And whether we grew up on a farm or didn't, we supported ag. We've been in ag our whole careers."
---
"POET is the leader. It's fun to work for the leader of the industry," Wilson says.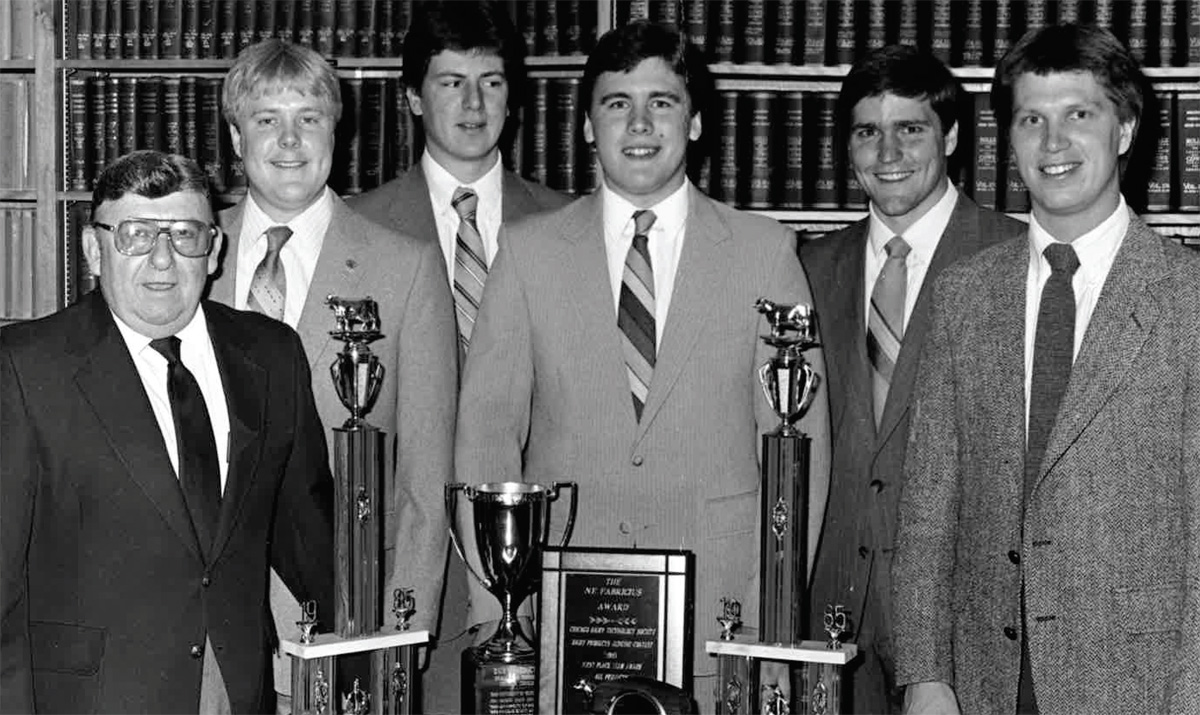 THE ORIGINAL DAIRY EXPERTS
After graduating from SDSU's dairy manufacturing program in the 1970s, Kelly Kjelden, Blaine Gomer and Daron Wilson are still dairy experts. (Needless to say, do not serve this crew anything less than the best ice cream or top-of-the-line cheese. Kjelden says his wife doesn't let him near the dairy section in the local grocery store, because he takes forever to pick out cheese.) As undergraduates, Wilson and Gomer participated in collegiate dairy product judging and tasted industry samples of products to detect defects in everything from ice cream to yogurt. In the "taste and spit" competition, participants considered the body and flavor of the dairy product to determine product defects. Wilson was on the judging team in 1984 and Gomer in 1985.
---