---
On a Saturday morning in May, a single semi-truck pulled out of the ClearFlame Engine Technologies tech center in Illinois and drove 250 miles to its test facility in Indiana.
---
This was not your typical semi-run. Because that semi-truck, through breakthrough technology that requires only slight modifications to its Cummins heavy-duty diesel engine, is powered
by bioethanol.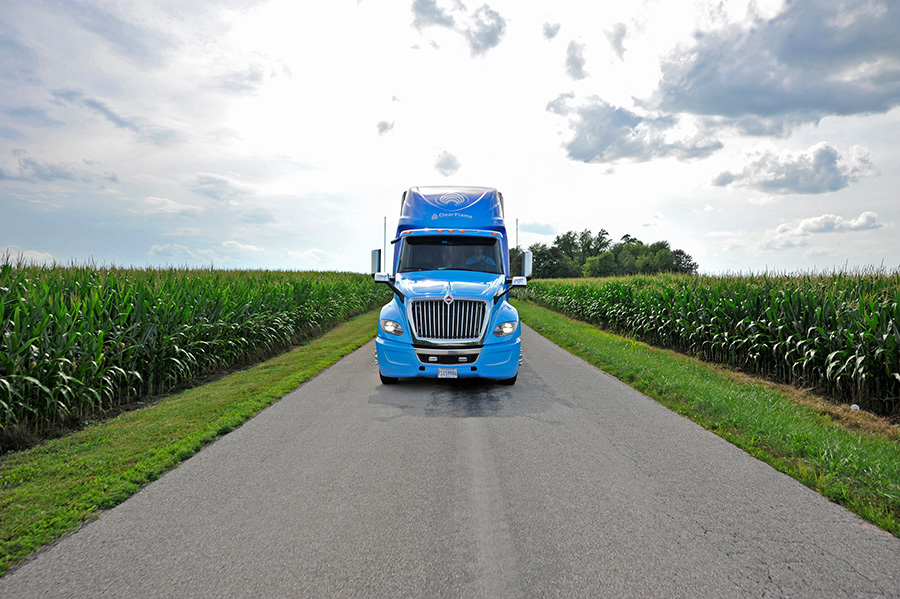 ---
Those 250 miles, that first long-haul trip, may be the next step toward eliminating the pollutant-heavy diesel fuel from the trucking industry. Those 250 miles may also be the next step toward greatly reducing the nearly five gigatons — that's five billion metric tons — of CO2 emitted by diesel engines annually.
---
ClearFlame's patented process can be performed by any diesel mechanic, and roughly 80 to 90% of the engine parts remain stock. It's a technology that could be seamlessly implemented into any diesel fleet.
---
Tests have shown that the engine still produces the same high torque, energy efficiency, and durability as a diesel. But it produces 40 percent fewer greenhouse gases and saves, at current fuel rates, more than $3 per gallon (and nearly 35 cents per mile). Instead of spewing diesel soot out of the tailpipe, the exhaust looks almost clear.
---
"This is the kind of technical innovation that can change the trucking industry," says John Carlisle, Senior Advisor at Argonne National Labs. "This company has gone from two people looking at what some would see as a science fiction project to actually running a semi-tractor, with a modified version of its original diesel engine, on pure bioethanol."
---
Today, ClearFlame Engine Technologies employs 30 people and partners with big names like John Deere, the U.S. Department of Energy, and the Bill Gates-founded Breakthrough Energy Ventures.
---
"They've got Tesla and other giant, billion-dollar entities that are chasing the same overarching goal," says Carlisle, a science entrepreneur and physicist. "ClearFlame has a faster, quicker way to achieving decarbonization in heavy transportation, in my opinion, than Tesla does."
---
ClearFlame started in a Stanford University laboratory in 2015 when lab mates Julie Blumreiter and BJ Johnson partnered together in what Johnson describes as "a standard academic pursuit of how to make engines cleaner and more efficient."
---
During that "standard academic pursuit," they tested Johnson's idea of taking an existing engine, like a diesel, and converting it to run on alternate, more environmentally-friendly fuels, like bioethanol.
---
"I remember one early test when we realized how much cleaner the emissions would be running bioethanol instead of diesel," says Blumreiter, a mechanical engineer who says she swore she'd never be part of a start-up.
---
"We knew right then we could scale this in a way that could improve air quality and fight climate change."
---
Julie Blumreiter, Co-Founder and Chief Technical Officer of ClearFlame Engine Technologies
---
Blumreiter and Johnson spent much of the next year in the lab at Stanford and in discussions about the future of ClearFlame.
---
In 2017, Blumreiter and Johnson — along with 120 other startup companies — applied for the first-ever Chain Reaction Innovations program, a two-year fellowship focused on clean energy and science technologies. The program is based at the Argonne National Laboratory, the Chicago-area science and engineering research facility run by the University of Chicago and funded by the U.S. Department of Energy.
---
ClearFlame was one of just five companies chosen for the program.
---
"The chance to partner with Argonne was an amazing opportunity," says Johnson, who grew up in Seattle. "I don't come from an agriculture background, so I'm not pushing bioethanol for that reason. I'm talking about engines, but I don't have Detroit in my blood. I believe in this technology because it solves a real problem, and it can make the world a better place."
---
Blumreiter and Johnson moved to the Chicago area for the Argonne opportunity.
---
"Once we got to Argonne, once we got that proper office space and lab space and the money and opportunity to do more testing, ClearFlame became all-consuming for us," says Blumreiter, who, due to her love of the engineering side, has taken on the official role of Chief Technology Officer.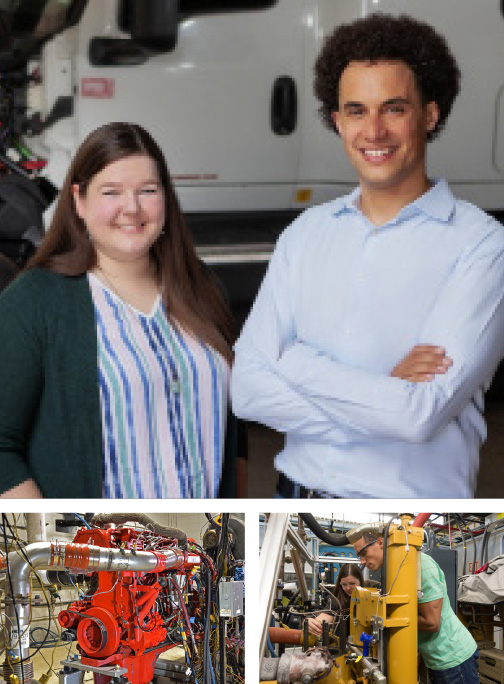 ---
Even the scientists at Argonne, though, were skeptical of technology that could transform a heavy-duty diesel engine to run on bioethanol without fundamentally changing the engine.
---
"The program is special in that if you are selected, you get the power of a national lab behind you," says Carlisle. "The paradox here is that the scientists at the lab couldn't believe the ClearFlame technology could work."
---
At their R&D station at Argonne, Blumreiter and Johnson were given the use of a heavy-duty, single-cylinder test engine. The same engine, it turns out, that Julie's great uncle, Werner, had designed during his long tenure working for Caterpillar.
---
"It felt like a sign," says Blumreiter. She and Johnson, though, immediately sensed the skepticism. "We knew we had to prove our technology once again."
---
They did.
---
"When we got that single-cylinder engine up and running on bioethanol and were able to show our data to the scientists there, they had this show-me moment where they finally says 'OK. This is possible.'"
---
By 2020, ClearFlame was testing — and proving — their diesel-to-bioethanol technology on multi-cylinder engines. The investment capital followed.
---
From the beginning stages of the project in 2017-2018 to 2020, ClearFlame received grants from the Iowa, Minnesota, Kansas, and Illinois Corn Growers Associations, the National Science Foundation, and the Department of Energy.
---
In 2021, Breakthrough Energy Ventures — along with Mercuria, John Deere, and Clean Energy Ventures — invested $17 million.
---
Later that year, a study by Gladstein, Neandross & Associates confirmed ClearFlame's projections that trucks running their engine technology would substantially lower the total cost of ownership, lower their cost per mile, and lower their greenhouse gas (GHG) output.
---
From an environmental standpoint, Blumreiter and Johnson knew that many of the major trucking companies were actively trying to reduce their GHGs and lower their carbon footprint.
---
"We meet with many big trucking companies, and one of the first things they ask is about things like carbon intensity," says Johnson.
---
"They want to do the right thing for the environment, and ClearFlame's environmental benefits sell themselves."
---
BJ Johnson, Co-Founder and CEO of ClearFlame Engine Technologies
---
From a financial standpoint, the study also showed something that every trucking company fights for every step of the way: bottom-line savings. The projected investment in converting a fleet to ClearFlame technology, says Johnson, can be recouped within 12 months through savings in fuel alone.
---
"This study validates what we've been saying for some time," says Johnson. "ClearFlame's engine modification technology not only takes the dirty diesel out of diesel engines, but it is also less expensive in total cost of ownership than diesel, electric, natural gas, and hydrogen."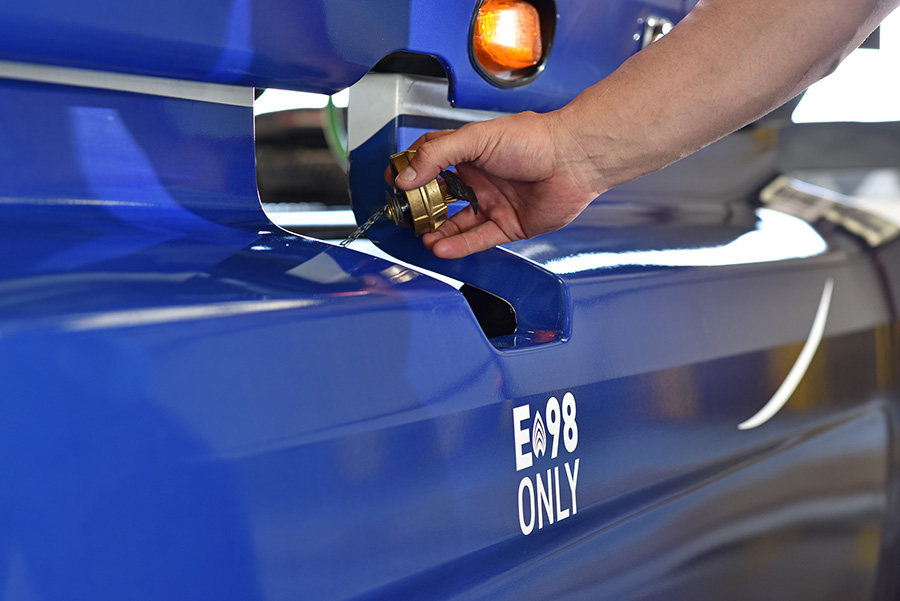 ---
ClearFlame, meanwhile, has continued to grow. The engine technology has continued to advance. And Blumreiter and Johnson have never lost sight of what they had envisioned in that Stanford lab eight years earlier.
---
"We always knew we wanted to create something that could have a real impact on the environment," says Johnson. "I think the world is pretty close to having an 'a-ha moment' on ClearFlame right now. We're at a moment when diesel is well over $5. As a country, we're far behind on our environmental goals. Businesses are realizing the importance of the need for energy independence and cleaner alternatives to fossil fuels."
---
And, he says, that first fleet of trucks — with engines converted by the trucking company's regular diesel mechanics to run on bioethanol — could very well be in the works soon.
---
"There are those times when science fiction can be turned into science reality," says Carlisle. "Julie and BJ have done that. Their story is inspirational when you think about it. They set out to make the world a better place for all of us, and they may very well accomplish that."
---