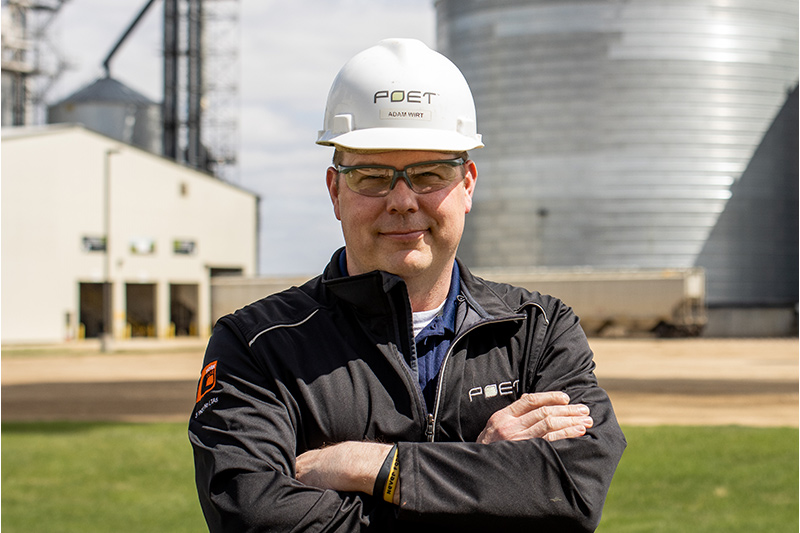 ---
Adam Wirt always thought his career would revolve around his family farm.
---
He planned to join the business after college, but upon graduating from South Dakota State University with a degree in agricultural systems technology, Wirt hit a snag in the timeline.
---
With his uncle, father and grandfather all still farming, there wasn't room for him yet. He needed a job in the meantime, and down the road in Chancellor—within sight and earshot of the farm—a POET plant was being built. Wirt applied as a front-line operator, intending to bide his time until his grandfather retired.
---
However, plans change; Wirt celebrated 18 years with POET in March.
---
It was a willingness to explore opportunities within the company that allowed Wirt to work his way up from that operator role to his current position as General Manager of the Hudson plant, gathering varied experiences along the way.
---
When he got started back in 2003, the bioethanol industry was booming, and POET was building plants rapidly.
---
"There was kind of a void of experienced personnel to hire as we started new plants and right about that time, we were starting one in Hanlontown, Iowa, and I was approached for a night shift supervisor position," Wirt said.
---
Just 14 months after starting in Chancellor, he faced a career-altering decision.
---
"For me, the choice to farm or create a career at POET happened at that point," he said.
---
Taking the night shift supervisor position would set him up for a future role as an operations manager, but it would require moving away from the farm and putting that vision on hold,
possibly long-term.
---
Wirt took the gamble on a career, and it was just months later that he was recruited for the Operations Manager role in Hudson. Eager to get back to South Dakota, he took the job and has lived on the same acreage with his wife, Melissa, and their daughters ever since.
---
His path within the company hasn't been entirely linear, though.
---
After almost four years in Hudson, Wirt took a position as a Field Operations Specialist out of Sioux Falls. He then moved to the Biomass Manager and Biomass Logistics Director roles before returning to plant management as General Manager of POET Research Center in Scotland, S.D.
---
"When I talk to team members about their careers and where they want to go, I like to say, 'You can go anywhere you want to.' I'm proof of that," he said. "You've got to work hard, believe you can do it and put in the effort. Opportunities are endless in our organization, but you've got to be willing to be flexible, to move and to try new things."
---
Starting a new role amid a pandemic
---
Wirt had the opportunity to return to Hudson as the General Manager in February 2020, right on the heels of COVID-19's arrival in the United States.
---
As General Manager, the early days on the job are all about getting to know your crew—a task made exponentially more difficult by masks, social distancing and virtual meetings. Fortunately for Wirt, many of his team members were already familiar with him from his prior role in Hudson.
---
"I felt extremely benefitted in coming back to a site where I'd previously worked with every single leader except one," he said. "It shortened up my window to build trust with them and to establish those intimate relationships we need to lead in the way that I think is important."
---
As he continues in the role, Wirt's goals are to challenge his team to reach higher aspirations and help new leaders grow. "This company has supported all the things I've ever needed in terms of career growth, but most importantly, I believe in what we're doing. We support agriculture, and I get to support something that's supported my family its whole life."
---
Staying connected to farming
---
Though he didn't end up joining his family operation full-time, Wirt has kept his hands in the industry, both at POET and in his free time. He lives just 20 miles from the farm his dad and sister now run, and on most weekends, you can find him over there helping out.
---
"Part of our farming business is that we raise pigs and lambs for Future Farmers of America and 4-H projects for kids, so I run the sheep side of our family business," he said.
---
Wirt's daughters, Jovie (13) and Emerson (10) are also involved in showing livestock competitively—both pigs and lambs.
---
Beyond spending free time at the family farm, Wirt has utilized his background and perspective across various projects at POET.
---
"I've been somebody that folks in leadership will tap periodically when we're talking about what's happening in the farming space," he said. "I like being able to take what I garner from the little farming that I do and bring it back to help guide business decisions. I like to think I can bring a pretty quick litmus test to the table of whether something sounds doable or not."
---
Wirt has worked on several special projects with POET's founder and CEO, Jeff Broin, and he has been involved in research efforts such as the potential benefits of high-oil corn or exploring farming practices that could lower the industry's carbon intensity in innovative ways.
---
It's opportunities like this that have allowed Wirt to blend his two career paths seamlessly. "This business is centralized in agriculture, the avenue I wanted to be in, and by working in this field, I'm supporting others who can hopefully go down that path and be the next generation of farmers or producers," he said.
---
"Hopefully, because we're here, maybe we can open the door to help and support them in their journey. That's something that motivates me—helping our local schools, towns and growers—that's why I get excited to show up every day. It's the impact we get to have on our community."
---