---
One critical element of protecting the future of biofuels and rural America is being engaged in the political process.
---
POET PAC, which was established in 2008, does that by building strategic relationships with and educating policy leaders on critical issues for the biofuels industry and supporting candidates who will be bold champions for the biofuel and agricultural industries in Washington D.C.
---
Hear why POET PAC Member and farmer Gary Pestorious supports PAC and encourages individuals to get involved and support American farmers.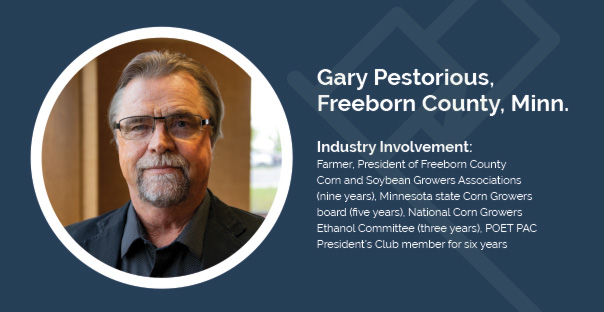 ---
Vital Readers,
---
When ethanol was getting started, I remember the tremendous effort put in by various organizations promoting the benefits of biofuels to political figures. This proved to be a smart investment of time for the industry and still holds true today.
---
As corn farmers, we know approximately six billion bushels of corn are used to feed livestock, a number that hasn't changed in the last 50 years; two billion are exported around the globe; and one billion bushels are used for the seed and industrial market. Currently, we have nearly two billion bushels of surplus grain. This means that biofuels currently process about one third of the corn crop, which is five billion bushels per year. If this went away, we would have five to seven billion of surplus grain sitting on the ground each year! This is why the growth of the biofuels industry is so important for agriculture and why we need to tell Washington D.C. officials about our industry.
---
In addition to the surplus production, this country continues to be dependent on foreign oil. Any action we can take to offset that dependence, or reduce the amount we use, would be a benefit to the whole country. When gasoline prices get high, ethanol proves its worth by reducing the price at the pump for American consumers by over 40 cents per gallon. There is only one liquid fuel that can offset gasoline, and that is ethanol.
---
Unlike gasoline, biofuels also reduce climate change, create American jobs and will help farmers, like you and me, out of the current ag crisis we face today.
---
Without POET and other organizations like Growth Energy, we would not have been able to celebrate our most recent victory of year-round sales of E15. It has taken ten years to get to this point, but through the dedication of these organizations and POET PAC members, and the commitment made by President Trump, Americans finally have a choice at the pump. This proves that when we walk into a room in Washington, people listen.
---
I urge all of you to consider donating to POET PAC. Personally, I use half of my check-off dollars to give to the PAC at the President's club level because every dollar counts.
---
If you are not sure if giving to the PAC is right for you, I encourage you to ponder this question: What would we do with the extra six billion bushels of corn extra each year if biofuels were to go away due to regulation?
---
If you are not a POET PAC member, what other organization is working hard on your behalf to educate policy leaders in Washington?
---
POET PAC is the most effective way to amplify your voice in Washington and for you to stand alongside thousands of others who want to make the world a better place.
---
It's time for you to be informed, get involved and support the American farmer. Join POET PAC today!
---
Sincerely,
---
Gary Pestorious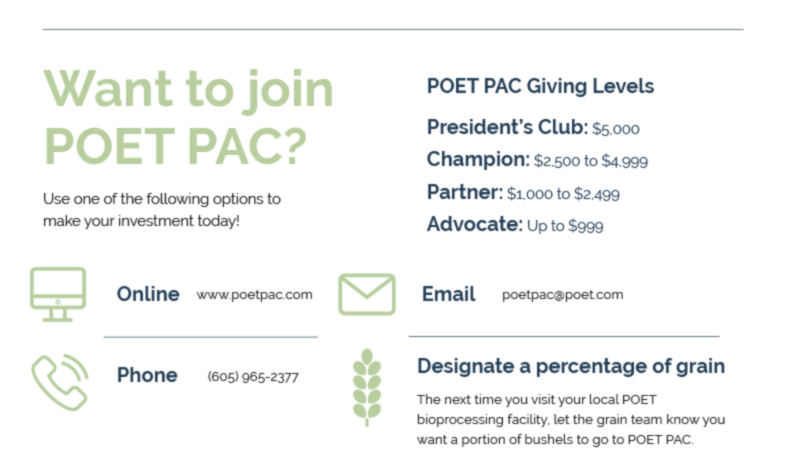 ---