---
"Oh, that sounds fun!"
---
This was the response that General Manager David Wood received from Plant Manager Deb Roth when he discussed a tough project in his first few weeks at POET Research Center (PRC).
---
"When I first got to POET Research Center, we were tasked with researching a new yeast to mitigate a grain toxin," said Wood. "It was going to be disruptive to our entire operation, as well as a difficult challenge. I expected resistance and a lot of questions but instead was met with excitement and determination. That's when I realized how special this team was."
---
POET Research Center, the company's original bioprocessing facility, is located in Scotland, South Dakota. It is POET's dedicated piloting and demonstration facility. For 35 years, PRC has led the POET team into new discoveries, technologies, and processes.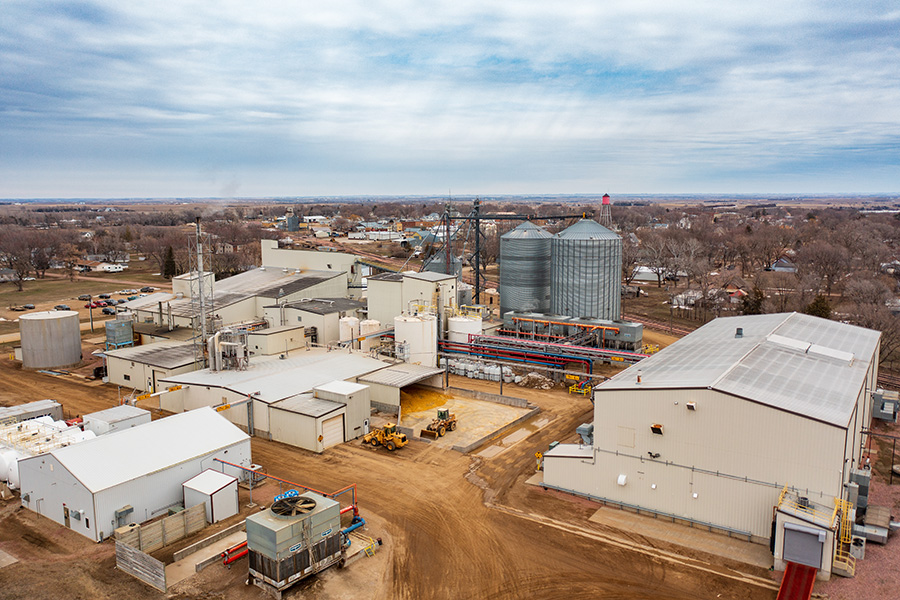 ---
History in the Making
---
In 1987, the Broin family purchased what was then a bankrupt bioethanol facility in Scotland. This single one-million-gallon-per-year facility became the cardinal plant for what would evolve into POET. Jeff Broin, POET Founder and CEO, originally served as the first General Manager of PRC.
---
The Broins took Scotland from a defunct facility to the first of a fleet of state-of-the-art bioprocessing plants. Today, PRC has a capacity of 11 million gallons and creates immense value for POET as a cornerstone of POET's research team.
---
Celebrating its own 35th anniversary in conjunction with the entire POET entity, PRC remains just as dedicated to research and development as it did in the 1980s.
---
"A Tremendous Amount of Research"
---
"PRC's capabilities are incredibly broad," said Wood. "We have two separate operating plants as well as extensive research capabilities in adjacent facilities. The main plant is 80% of our capacity, and the pilot plant is 20%. We run a variety of trials in each plant to evaluate and de-risk research concepts."
---
In fact, the research facility boasts the most extensive fermentation and solids/liquid separation scale-up technology in the world. PRC has the ability to go from lab-scale to pilot to full-scale production prior to implementation at POET's other bioprocessing locations.
---
"Many of POET's signature bioproducts and processes have come out of PRC," said Wood. "From the original patent of the BPX no-cook process — which set POET apart from other bioethanol producers — to our original high-protein feed product, cellulosic bioethanol, Voilà corn oil, and gel sanitizers."
---
Though PRC is best known for its impressive research capabilities, it also boasts teamwork found only in POET's unique company culture.
---
"This team embraces change better than any other team I've worked with," said Wood. "There is little resistance to trying new things here; this team thrives on change.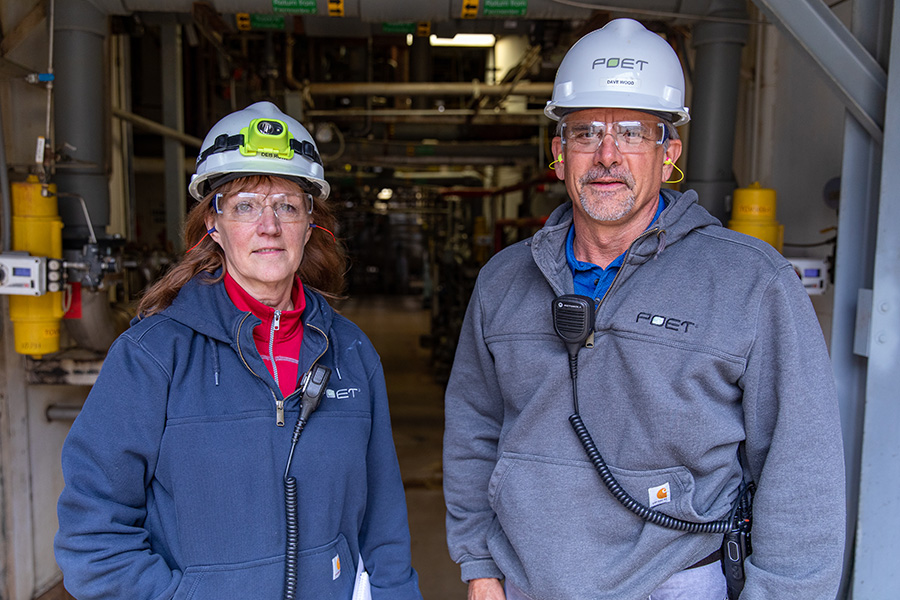 ---
"They are an experienced and incredibly knowledgeable staff. The work they do every day helps POET change the world."
---
- David Wood, General Manager
---
Smooth Operations
---
Deb Roth has been with POET since just a few months shy of day one. Though she's been at POET for more than three decades, Roth has never been bored with her work.
---
"There is always something interesting or exciting happening," said Roth. "After all these years, you'd think I'd be tired of it, but it doesn't feel like I've been here this long. We have an awesome team that works together. We all have a lot of respect for what we can each do and what each team does."
---
Coming from a person with Roth's experience and tenure, her praise is highly regarded. She knows talent and high-quality work when she sees it and is continually impressed with the work that happens at PRC.
---
"You can't leave a team out when talking about PRC's success. We wouldn't be able to do what we do every day without everyone pulling together. The operations team works incredibly hard to keep the plant running smoothly and consistently, which is important in experiments. The lab team handles a significant number of samples daily due to the variety of experiments and new projects. The maintenance team works hard on preventative maintenance to keep the aging equipment operational. Every team member is an integral piece in making each and every breakthrough."
---
Having been at POET since the beginning has given Roth a unique perspective on the company and what she thinks the world needs to know about how POET functions.
---
"I don't think people understand the amount of research or the amount of change that happens at POET. They may think we're a standard bioethanol facility and do the same thing every day. That couldn't be further from reality. POET is an industry leader, a groundbreaking researcher, and every day is striving to change the world in new and profound ways."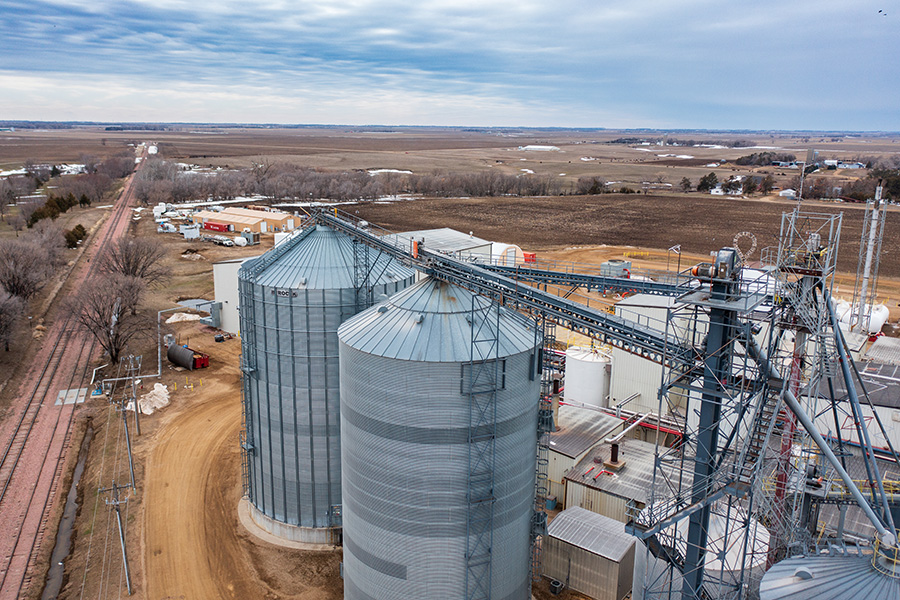 ---
"A Force to be Reckoned With"
---
Clinton Sieben, Maintenance Manager, has been at POET for 13 years.
---
His team keeps the plant in order, up-to-date, and running smoothly. They are the first place the PRC team looks to when a new project comes up, especially big-ticket projects.
---
"Part of our culture is a 'can-do' attitude," said Sieben. "You'll never hear someone at PRC say, 'Oh, we can't do that.' Challenges come from our work and research, never from each other, which is a valuable quality in a team."
---
That team spirit has served PRC well when large, quick turnaround projects come down the ladder.
---
"The best example I can give is when POET acquired the bioethanol assets from Flint Hills Resources," said Sieben. "These new plants produced a number of products new to POET. The question was posed to us by POET's leadership if our legacy facilities could produce similar products while running POET's proprietary BPX process. Our maintenance and fabrication teams had a working process running in Scotland in less than six weeks.
---
" Before you know it, our research team can draft processes for how to produce our various bioproducts. The PRC team works with great synergy and is a cohesive unit when pulling off projects. It is a work of art to watch the team's various skill sets unfold and complement one another."
---
- Clinton Sieben, Maintenance Manager
---
"We leave our egos at the door"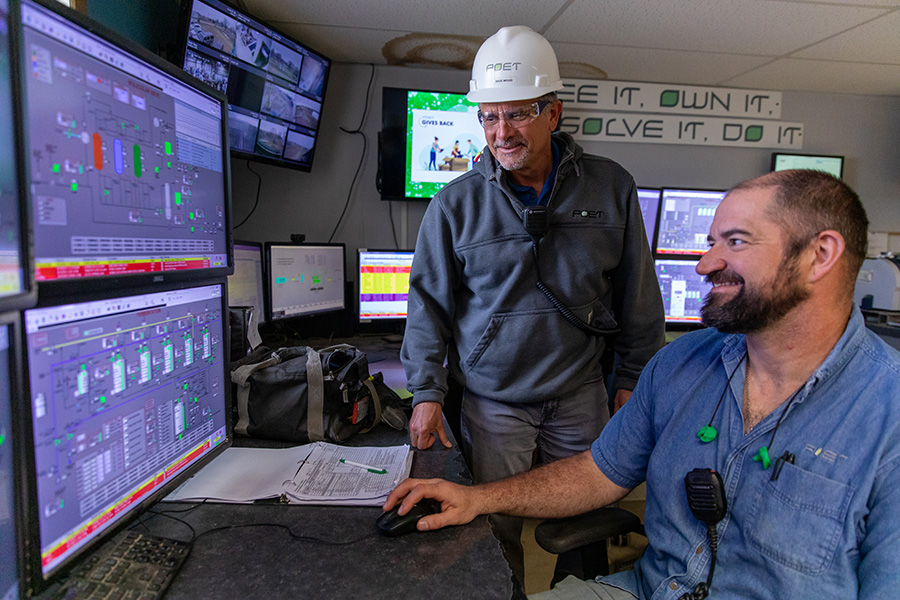 ---
Brady Clavel, Process Development Engineering Manager, started at PRC almost 12 years ago because he was interested in the cellulosic bioethanol research the facility was doing.
---
"We're the scientific and development side of POET," said Clavel. "PRC is a great resource for the organization because it has the ability to morph very quickly when a new project arises. Our fabrications team can build anything you have an idea for and get it integrated into the process. Ultimately, we're trying to execute research trials as quickly and effectively as possible. Research isn't necessarily about success or failure but trying to identify what the next step is to find that successful pathway."
---
POET's sustainability goals are at the forefront of the PRC team's minds when it comes to advancement in technology.
---
"All our projects have an ear towards the sustainable aspect of POET's vision for the future. The world needs to get away from fossil fuels and look to agriculture's cyclical nature," said Clavel. "Corn takes CO2 from the atmosphere and makes it into plant material that we can utilize to make a renewable biofuel. It's much more elegant than the normal petrochemical process, which is pulling finite and carbon-intensive resources from
the ground.
---
"Nature has done a great job at optimizing its carbon capture process in the field. Our job is to look for optimization opportunities for the biofuel production at our facilities, increasing plant efficiency, reducing input costs, enhancing our feed and co-products, and looking for new technologies to implement."
---
Like his colleagues, Clavel also is quick to commend the PRC team for its effectiveness and ability to work as a cohesive team.
---
"We fit the mantra that POET has about being all one team, and we leave our egos at the door. We're engineers, operations, maintenance, and scientists. Everyone is aware they won't succeed on their own; success and failure rely on communication and our ability to work together, and we've thrived in that role. It's dynamic and exciting and a small taste of what POET is all about."
---