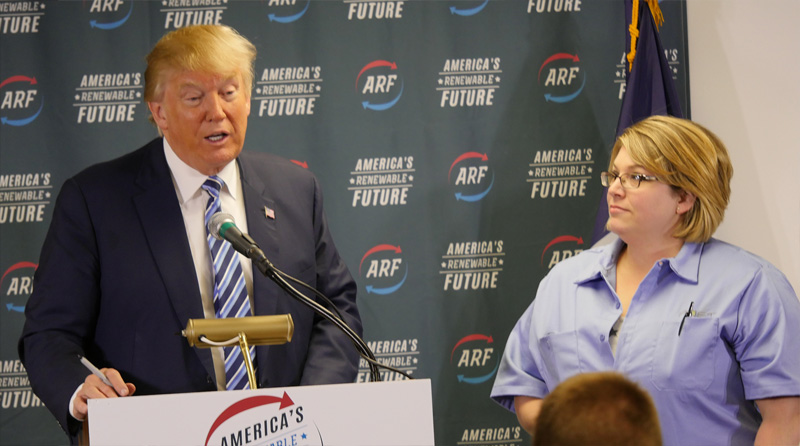 ---
President Trump announced on Tuesday, Oct. 9, that he will allow year-round sales of E15, fulfilling a promise he made on the campaign trail to support ethanol and responding to the rally cry of farmers and ethanol producers across the country's heartland amidst the nation's farm crisis.
---
Ethanol industry groups have been watching closely for an announcement since Trump had said in July that he was "very close" to lifting the ban. Outdated regulations from the Environmental Protection Agency (EPA) restrict sales of E15 — a federally approved biofuel with 15 percent ethanol and 85 percent gasoline — placing an unnecessary burden on fuel retailers and depriving American consumers of relief from higher gas prices. According to Politico,
---
Year-round sales of E15 are seen as an attractive homegrown solution to give an economic boost to Midwest communities hit hardest by the farm crisis. Nationwide adoption of E15 could drive demand for an additional 2 billion bushels of surplus grain annually and help protect countless rural jobs and family famers across America's heartland.
---
"I would like to thank President Trump, on behalf of our 2,000 employees and our 30,000 producers, for fulfilling his promise to the Midwest and our industry," said Jeff Broin, Chairman and CEO, POET. "This is a historic directive — not only for our farmers, but for the nation as a whole. The move to E15 will provide consumers with the choice to fill up with low-cost, high-performance fuel year-round, while improving air quality in our country's largest cities.
---
"We commend the Trump Administration for understanding that the only way to stabilize commodity prices for U.S. farmers is through the production of biofuels. Having grown up on a farm, I have a deep respect for hardworking farm families and appreciate the President's support of rural America."
---
Trump made the announcement Tuesday afternoon before leaving to attend a campaign rally in Council Bluffs, Iowa. He'll be in the home district of GOP Rep. David Young, who is up for re-election in November. The timing of Trump's announcement is widely seen as a play to help aid Republications like Rep. Young in midterm elections across the farm belt who will need farmer support in order to win.
---
The biofuels industry has long advocated for a lift on the ban because of the benefits E15 holds for the environment, the economy and consumers. It's what many refer to as the "win-win-win" of E15.
---
---
Trump is also directing the EPA to place restrictions on trading biofuel credits, according to the White House official, to address oil refiners' concerns.
---
Learn more about the benefits of E15 at http://e15now.com
---