---
OPERATIONAL EXCELLENCE, POET PAC AWARDS
---
Awards were given during January's General Managers' Meeting. POET Biorefining – Caro received the 2016 award for Operational Excellence, POET Biorefining – Corning received the award for highest team participation in POET PAC. POET Biorefining – Alexandria received the award for highest annual team contributions to POET PAC.
---

BLENDER PUMP APPRECIATION DAY
SAYING THANK YOU FOR FILLING UP
---
POET Biorefining – Chancellor hosted Blender Pump Appreciation Day on Jan. 2 at Total Stop and Dave's Service in Lennox, S.D. Customers who filled up with an ethanol-blended fuel received stocking caps and a coffee traveler mug when they participated in the #poetproud social media campaign. POET employees served cookies and coffee and handed out ethanol information.

---

MAKING A DIFFERENCE THROUGH WORKPLACE MENTORING
---
POET Biorefining – Alexandria held a Mentor Award Ceremony in February. Team members Brandon LaShure, Ryan Lindeman, Carolyn Landmann, McKennan Heald and Chris Dent have each mentored a team member since the program began in 2016.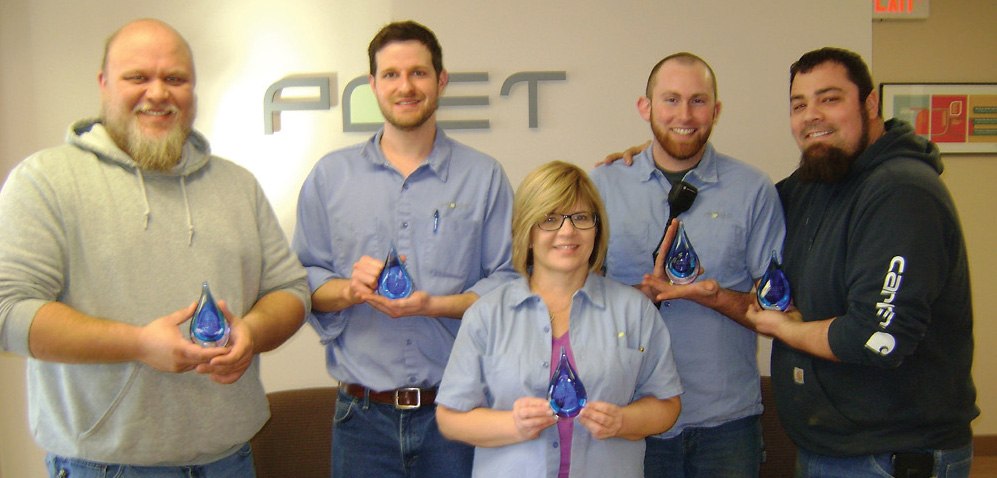 ---

YOUTH INTERNSHIP PROGRAM
---
In 2016 POET Biorefining – Hudson participated in Alcester-Hudson High School District's Youth Internship Program. This accredited class is available to qualified seniors to apply learning from their high school coursework into meaningful and relevant on-the-job experiences.
---
Senior Brigita Rasmussen is this year's intern. She began shadowing POET Hudson team members for three hours a week for twelve weeks in February. Brigita is interested in general agribusiness but will have the opportunity to learn about the whole company.
---
"At POET Hudson, we are excited to be a part of the Youth Internship Program because it provides an excellent opportunity to engage with the next generation of leaders in our local community," says Jeremy Halgerson, General Manager. "Helping future leaders like Brigita understand how their passions align with what we do at POET has been very rewarding for our team."
---
After completing the class, students have information to make more informed career decisions. They also gain valuable insights about different career paths before pursuing degrees that may not align with their passions.
---
"One of the best benefits of the program is that high school interns can observe many different jobs at the Hudson plant," says Carmen Kast, Accountant at POET Biorefining – Hudson. "And after the internship, we have made a biofuels friend for life. Now, that's exciting!"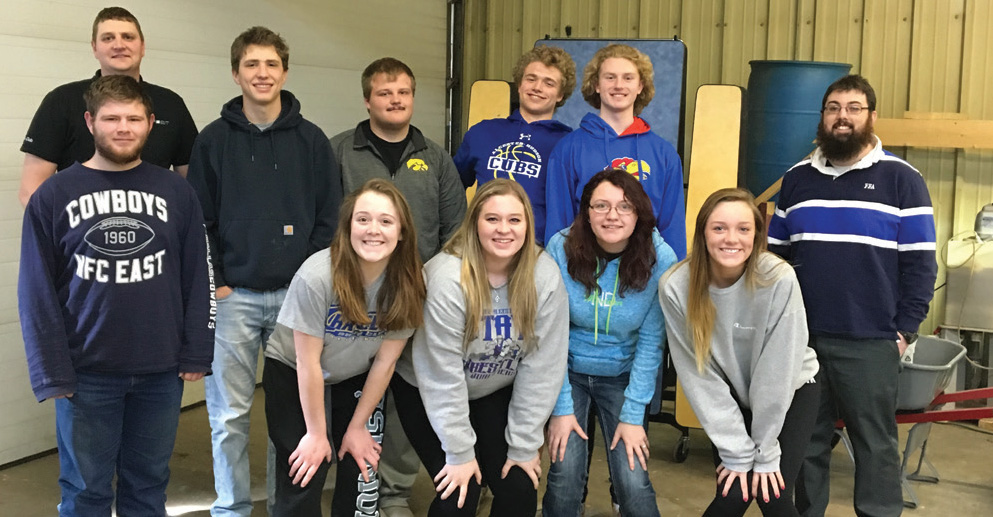 ---

GRAB & GIVE GROCERY EVENT
---
For the fifth straight year, the Cerro Gordo County Farm Bureau sponsored the "Grab and Give Groceries" event to benefit the Hawkeye Harvest Food Bank in Mason City, Iowa. Twenty-three businesses participated and collected more than $6,400 of groceries to benefit the Food Bank.
---
Teams had five minutes to collect groceries as close as possible to a $250 total. The winning team was North Iowa Credit Union with a total of $249.80! The POET team from POET Biorefining – Hanlontown decided to grab as many groceries as possible in five minutes and collected $906.44 of groceries. While the POET team didn't win the event, the Food Bank was the real winner.

---

HANLONTOWN NAMED 'HIGH OCTANE' AT CHAMBER BOWL
---
The Mason City, Iowa Chamber of Commerce sponsors an annual Chamber Bowl that includes three fun nights of bowling and networking for over 200 people. This event includes 36 teams of six players. Dinner is provided and prizes are awarded. The POET Biorefining – Hanlontown team was named "High Octane" and won a prize for being the "Best Dressed Team."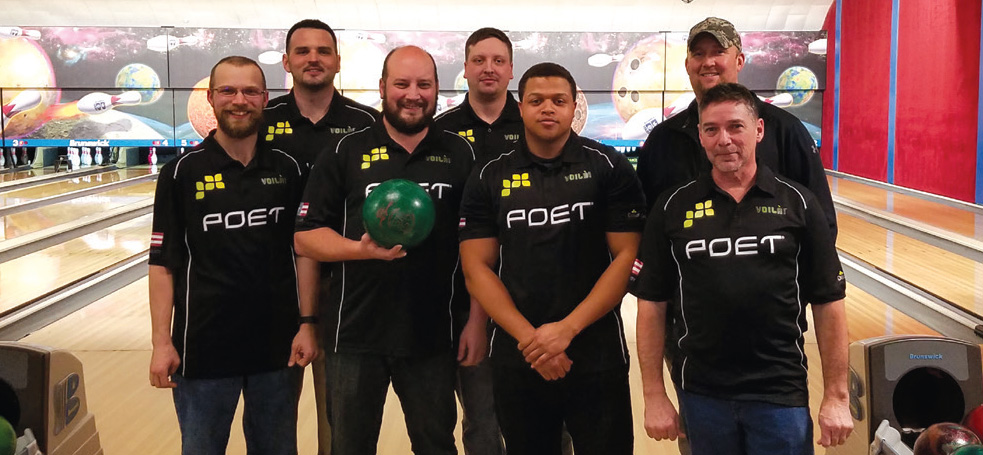 ---

COMMUNITY HELPERS DAY
---
POET team members Sally Moody and Sara Schoenfelder from POET Biorefining – Mitchell participated in Community Helpers Day during Catholic Schools Week in January in Mitchell, S.D. Community members set up a job fair for students and discussed their occupations. POET team members described the ethanol process and also had giveaway items for students.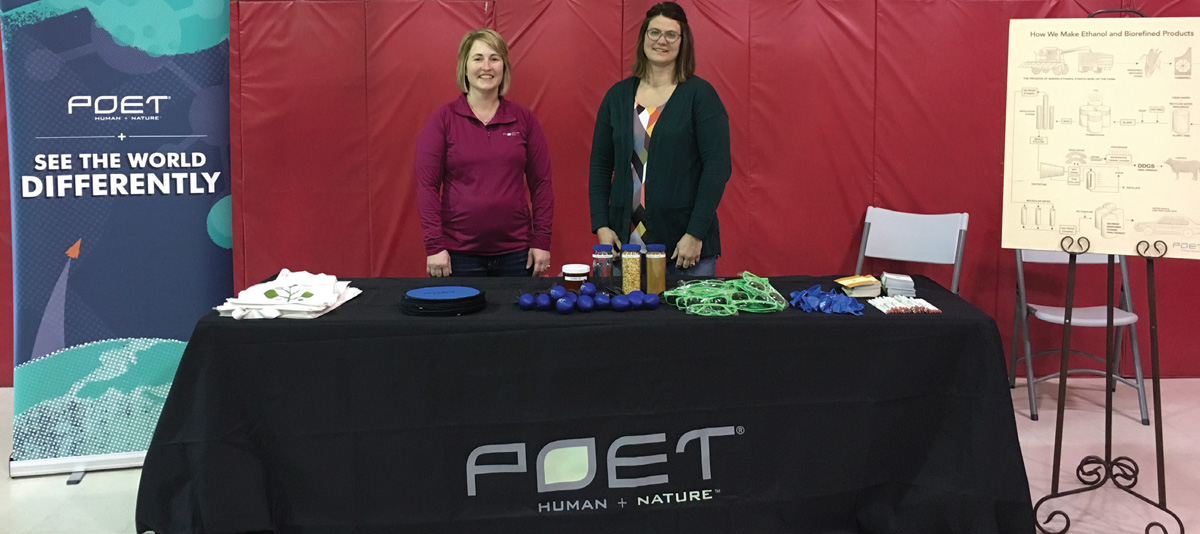 ---

CHILI COOK-OFF COMPETITION
---
POET Research Center in Scotland, S.D. held its annual Chili Cook off contest on Jan. 13. Team members brought in about 15 types of chili, and local business members were invited to be judges. The winners were Greg Fix (first), Jon Podzimek (second) and Katie Kokes (third).
---
---