---
Students Learn About Biofuels Production
---
Sixteen seventh grade students from the Chatfield Schools science class went on a tour at POET – Preston in October 2017. They went through a unit on measurements and learned that every single position at a bioprocessing plant is dependent on measurements.
---
POET – Ashton held a tour for a group of science students from Northwest Iowa Community College that included an Ethanol 101 presentation.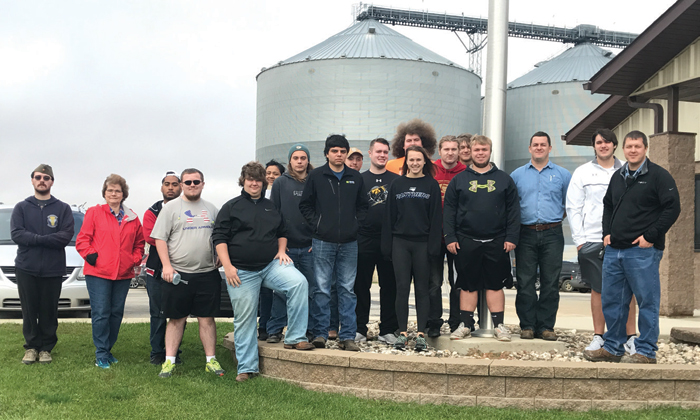 ---
POET Wins Workplace Excellence Award
---
POET received an award in October 2017 for Workplace Excellence from the Sioux Empire Society for Human Resource Management. This award recognizes POET for its effective communication with team members, employeefocused and family-friendly practices, as well as its notable opportunities for personal growth and educational development. Congratulations, POET!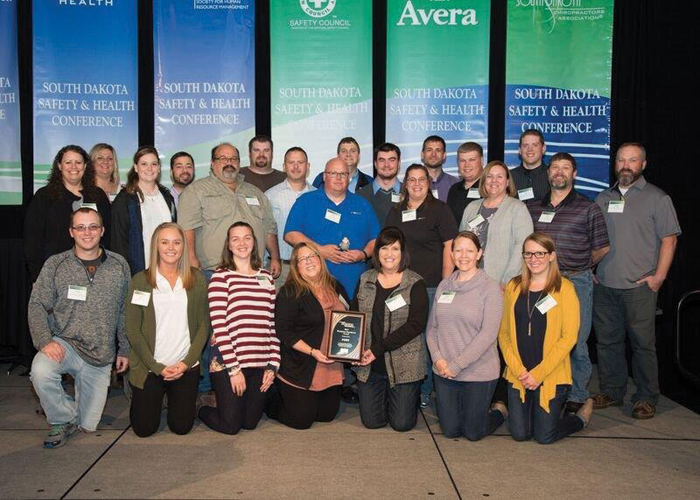 ---
State Legislators Visit
---
In October 2017 the Agriculture Task Force from the National Conference of State Legislators traveled to Sioux Falls, S.D., for their annual conference. As part of their time in South Dakota, the group toured POET - Chancellor and had a great discussion on how they could use their roles as state legislators to promote biofuel use across the country. Following the tour at Chancellor, the group stopped by Kum & Go to hear from Kum & Go's Sioux Falls District Supervisor Blaine Corlett and Growth Energy's Vice President of Development Kelly Manning about E15 infrastructure and roll-out.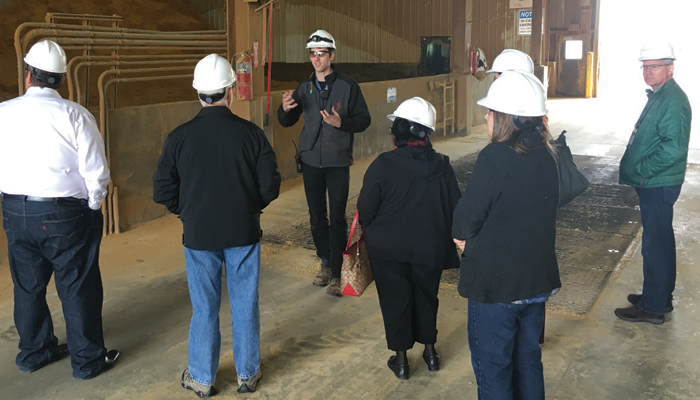 ---
Representative Young Visits POET — Corning
---
U.S. Representative David Young of Iowa visited POET – Corning in October 2017 as part of his Ag Tour through the Third District of Iowa. The group discussed the biofuels industry, the Renewable Volume Obligations (RVOs) under the Renewable Fuel Standard and Reid Vapor Pressure and went on a tour.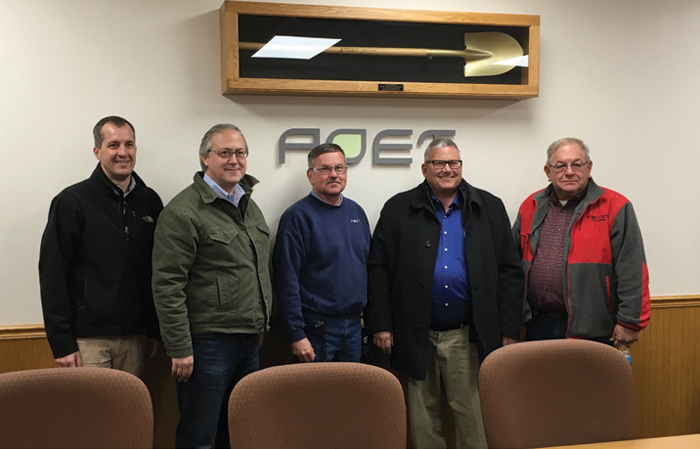 ---
POET – Corning Takes Part in Corning Elementary School 'Trunk' or Treat
---
POET – Corning participated in the Corning Elementary School Trunk or Treat. They decorated the trunks of their vehicles for Halloween and handed out candy to Corning Elementary School students. POET – Corning handed out trick-or-treat buckets filled with candy and surprises to each student.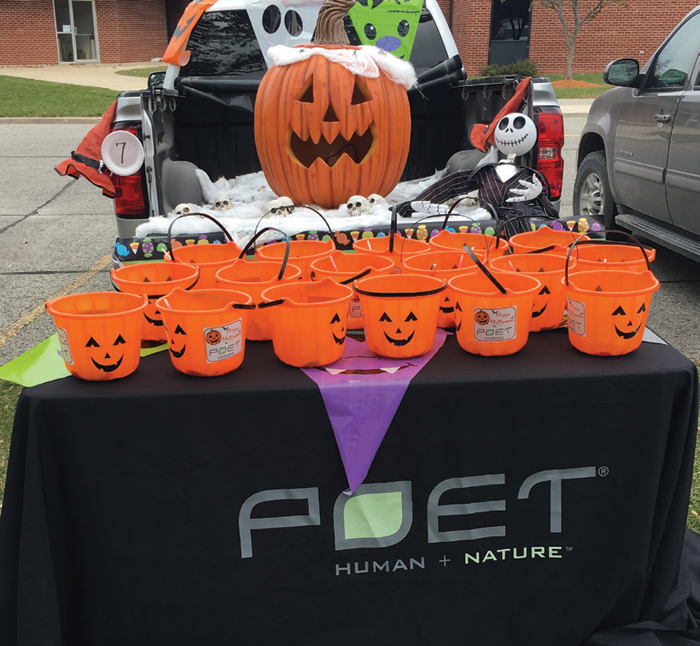 ---
POET Celebrates 30th Anniversary
---
POET celebrated our 30th anniversary and had several special events planned for a week of celebration from Oct. 30 to Nov. 3, 2017. Events included a special quarterly meeting with a 30th Anniversary Panel. Team members heard from those who helped form the company we know today. It was energizing for team members to hear these stories as we move forward into the next 30 years of changing the world.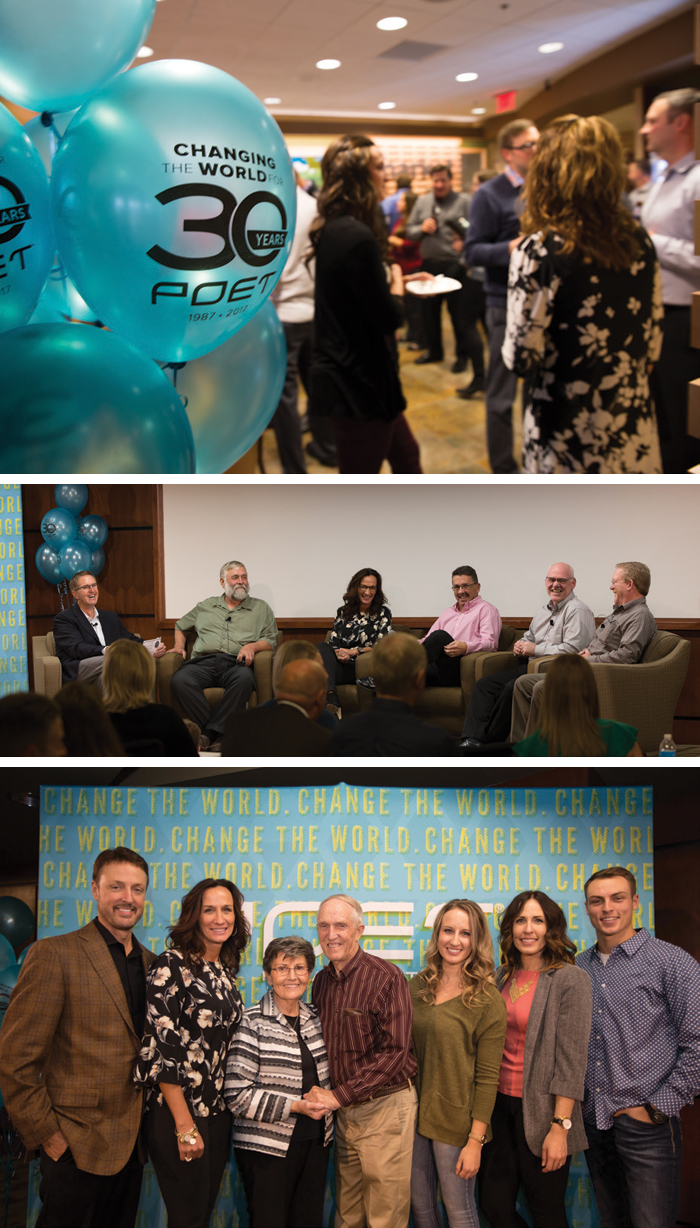 ---
Never Satisfied Scholarships
---
POET is awarding 10 scholarships of up to $5,000 for the 2018-2019 academic year! Applicants must be enrolled full-time in the fall of 2018 at any two-year or four-year college or university in the United States. One scholarship is reserved for a student who is related to a POET team member (includes children, grandchildren, siblings and nieces/nephews). All applications must be submitted by Feb. 2, 2018. Visit Poet.com/NeverSatisfied for more information.
---
POET Never Satisfied Community Grants
---
As part of POET's Never Satisfied campaign, several POET bioprocessing facilities are providing community grants in 2018 to improve their local communities. Nine plants will partner with local groups or individuals and invest in projects that better their local communities. Participating communities are POET – Coon Rapids, Corning, Groton, Hanlontown, Hudson, Laddonia, Macon, Mitchell and Preston. The application deadline is Feb. 16. To learn more and apply, visit Poet.com/NeverSatisfied.
---
---