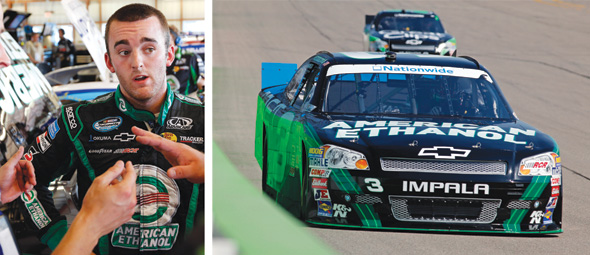 ---
Forged from steel and baptized in motor oil, Austin Dillon is living large.
---
The grandson of famed race car owner Richard Childress is in his first year driving in the NASCAR Nationwide Series™ – NASCAR®'s minor league version of the veritable NASCAR Sprint Cup Series™ – and has been battling teammate Elliot Sadler for the Series lead all season.
---
Still, the youthful driver – he favors a big, straw cowboy hat over ball caps and his followers keep in touch by Twitter and Facebook – relies on his roots to stay grounded. When not taking all left-hand turns on a concrete oval at speeds of around 150 miles per hour, Dillon does what every young Southern kid likes to do.
---
"I love hunting and fishing, love the outdoors, working out, just staying in shape and keep focused on winning championships," he said.
---
And the hat?
---
"I'm a big John Wayne fan, big Western fan and I've always loved hanging out West," he said. "And it's been a hot summer, so it's nice having a little shade on me."
---
Keeping it cool often isn't easy in the world of NASCAR®, where the name of the game is speed, domination and money – the NASCAR® brand brings in some $3 billion a year in sponsorship dollars, which is more than twice what the National Football League earns per year.
---
And especially when your grandfather is Childress – Richard Childress Racing has had at least one car in every Cup race contested since 1972, the longest such streak – and your dad, Mike, is a former driver and now is RCR's Vice President of Competition.
---
Dillon, all of 22 years old, says he takes it all in stride.
---
"Things have gone really well this year, I can't ask for a better rookie season than we've had. I've just been running a bunch of laps and not tearing up a whole lot of equipment, and I'm at a point where I'm trying to learn as much as I can for next year, keep driving hard and maybe get a couple of more wins in this year," he said trackside in Montreal, Canada earlier this season, "When I get to the track, I'm totally focused on that race. I'm totally focused on winning. We go into every weekend looking to win."
---
The coolness and confidence certainly has helped Dillon on the track. In 2011, he became the youngest champion in the NASCAR Camping World Truck Series™ and was 2010's Rookie of the Year on the NASCAR Camping World Truck Series™ – and looks to be the NASCAR Nationwide Series™ Rookie of the Year in 2012.
---
"I've been able to experience a lot of things. I'm very fortunate for everything I've been able to do early on in life and it's a very cool thing," Dillon said in his 'aw, shucks' North Carolina drawl.
---
"I just want to win. That's the fuel for everything. It's our rookie year and I'm having fun with it. You only get one rookie year, so you have to try and use it up, because you don't have that excuse next year."

---
Childress has announced – and Dillon said he wholeheartedly agrees – that the driver will be back on the Nationwide circuit in 2013, and will race up to six NASCAR Sprint Cup Series™ events before moving full-time into the NASCAR Sprint Cup Series™ in 2014.
---
"It's all good – (Childress and Mike Dillon) push me really hard, but it's all about staying true to what my family is about, and to be honest, I'm having a fun time winning races and stuff," Dillon said. "But to have that opportunity to drive the number 3 is great, it's an honor, and we'll just see what comes of it. Where I'm at right now with driving the number 3 for the NASCAR Nationwide Series™, people have really warmed up to it."
---
And he'll be doing it – pedal to the floor, gears flowing, rubber melting to the roadway – powered, in part, by ethanol.
---
American Ethanol is one of Dillon's primary sponsors, but NASCAR® is doing much more. Since 2011, all NASCAR® drivers in the three national series have been running on Sunoco Green E15, a 15 percent blend of ethanol, which is produced from corn grown and harvested on family farms across our country.
---
Led by Growth Energy and backed by more than 100 different entities – like farmers and state corn grower officials to ethanol producers and biotech companies – American Ethanol's idea is to use NASCAR®'s broad appeal to introduce and promote E15 across the nation. The ethanol industry is working to roll out E15 across the country – right now, the blend ratio is stalled at 10 percent – which would help create good-paying jobs, as well as wean American consumers off foreign-supplied oil.
---
"We just felt like NASCAR® was a great validator of the product, especially with our objective of getting E15 into the marketplace," said Greg Breukelman, Senior Vice President of Communications for Sioux Falls-based POET, a worldwide leader in ethanol production. "We needed to let drivers and retailers out there know that it's not only safe for their vehicles, it's a high-performance fuel. It's great having NASCAR® as a validator, but fans, they really listen to the drivers." Getting Dillon on board has been huge, Breukelman said.
---
"We feel like this is a great match for us," he said. "And we feel like Austin, he's certainly well-known already, but he's going to be a superstar in the sport. We feel like he can reach a younger audience – and we're just excited to have Austin on our team, and we look for big things out of him."
---
Dillon said he's just as proud to be on the American Ethanol team – and says he and his fellow NASCAR® drivers are impressed with the boost ethanol has given their race cars.
---
"Myself being young and having that relationship it's pretty cool to get people excited about a clean fuel that's our future, and it's cool I get to help tell where we're going with ethanol and I want people to get excited about it," he said. "The performance of ethanol is great. It's cool that we have a clean fuel that runs great and performs better than our old fuel."
---
"It's pretty special to be a young guy out representing the future of what we've got coming in clean fuels."
---