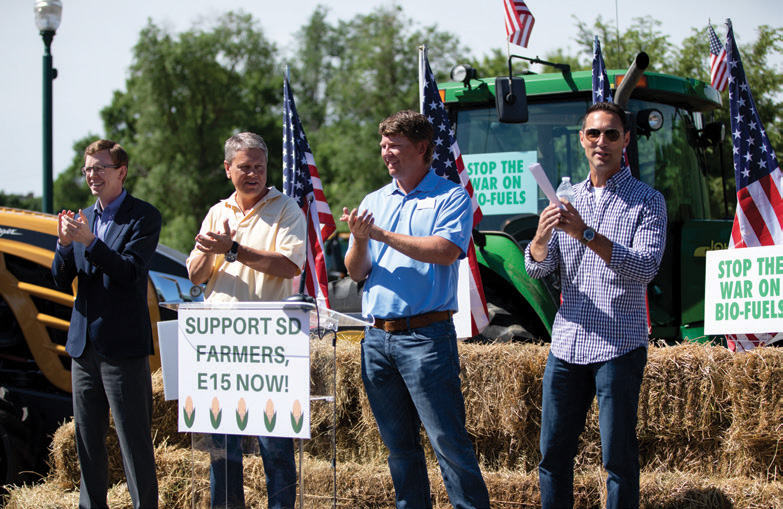 ---
SIOUX FALLS, SD – A key Trump Cabinet member visiting a strong Republican state would typically expect a warm welcome.
---
But South Dakotans on Wednesday, June 13, sent a blunt message to Environmental Protection Agency (EPA) Administrator Scott Pruitt: Go home, and do your job.
---
More than 200 farmers and biofuel producers rallied on Wednesday to tell the EPA to stop the delays and follow through on President Trump's commitment to deliver year-round sales of E15.
---
Farmers and biofuels supporters held signs with the phrases "RVP Now," "Farmers Fuel Our Economy" and "Support SD Farmers, E15 Now!" At several points during the rally, the crowd began chanting, "E15, E15."
---
EPA regulations limit sales of E15 by retail gas stations during summer months. The EPA has extended a waiver on Reid Vapor Pressure, or RVP, to blends below 10 percent but has yet to provide relief for E15. Those regulatory barriers are harming America's heartland at a time when farmers need the support. Nationwide adoption of E15 could drive demand for an additional 2 billion bushels of surplus grain annually.
---
"Farm income is down by 52 percent over the last five years, and the destruction of demand for South Dakota grains under Administrator Pruitt's refinery waivers has to stop," said Troy Knecht, President of the South Dakota Corn Growers Association. "Something has to change. We're here today to bring awareness to everyone in the state of South Dakota and the upper Midwest that the Administrator is not doing his job."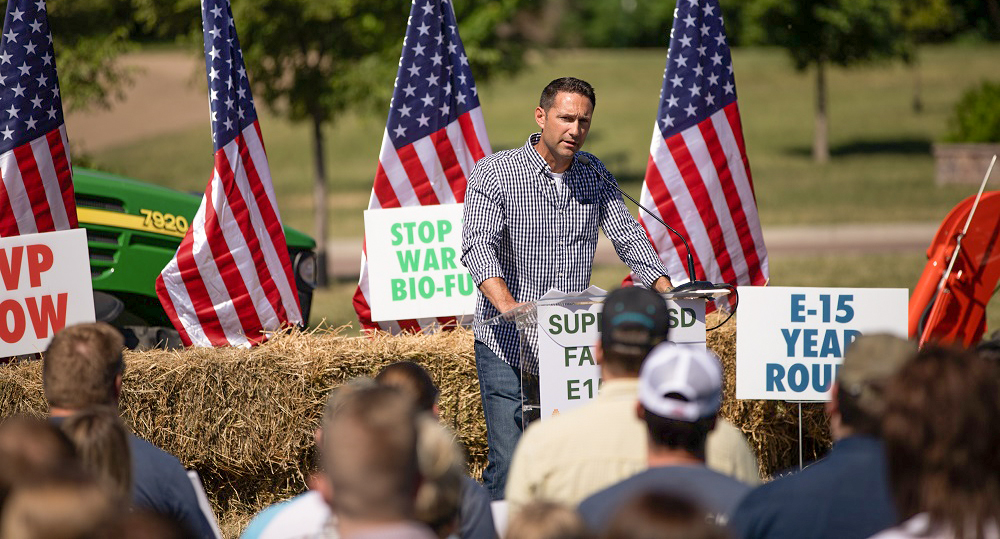 ---
As recently as last week, Administrator Pruitt sought to advance regulatory changes targeting the Renewable Fuel Standard (RFS) that would harm South Dakota communities during the worst farm downturn in a generation. South Dakota leaders called on Administrator Pruitt to uphold the president's commitment to the RFS, tear down regulatory barriers to higher ethanol blends like E15, and end corporate handouts that allow petroleum refiners to squeeze biofuels out of the market.
---
Knecht discussed the importance of passing year-round E15 sales as farmers face difficult markets. "We're great producers of corn and soybeans and all the things that we raise. We need markets. There's a lot of uncertainty right now with trade. An easy fix for us would be to grant the E15 waiver that we're asking for. … It's time to get EPA Administrator Pruitt to do his job."
---
Doug Berven, Vice President of Corporate Affairs for POET, emphasized that E15 is the clear solution to rising gas prices and falling commodity prices. "Today, fuel prices are surging. Everyone knows that. Today, grain prices are falling. Everyone knows that around here. Ethanol is a solution for both, and it's time for the EPA to get out of the way."
---
Dusty Johnson, former South Dakota Public Utilities Commissioner and current candidate for U.S. Congress, listed the numerous benefits of E15 and questioned why the EPA is impeding year-round E15 sales through additional regulations. "You know, and I know, that this is a homegrown fuel that adds needed supply to a transportation fuels market. Allowing E15 year-round would put more power in the hands of American producers and more power in the hands of American consumers," Johnson said.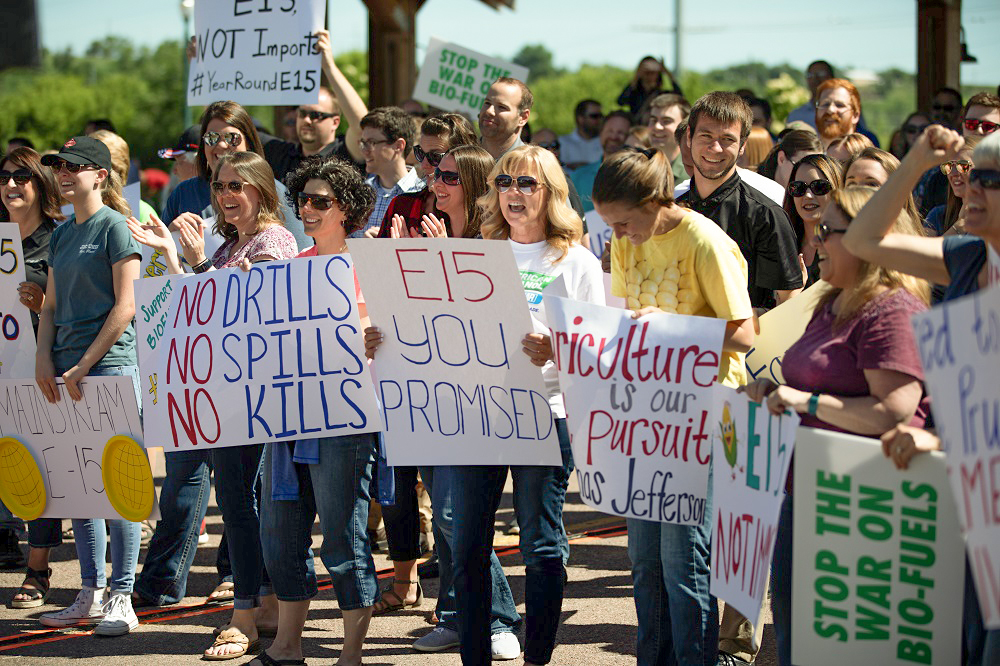 ---
Robert Walsh, who farms near Elk Point, S.D, was one of many South Dakota farmers who came out to the rally in support of year-round E15. Walsh, echoing thoughts from the event's speakers, said that it's not enough for Pruitt to just visit the state.
---
"We need some action on his part — not just being here. He should be giving a press conference that he's approved E15," Walsh said. "E15 is vitally important to South Dakota farmers and for the state itself, communities and the state budget. Pruitt needs to follow the President's lead and approve E15 since it's good for the environment, the farmer and the consumer. It's a win-win-win."
---
Rural advocates made a similar call in Nebraska, where thousands gathered this week for the International Fuel Ethanol Workshop and Expo (FEW). Growth Energy CEO Emily Skor gave the keynote address, urging farmers to demand answers from the EPA during Pruitt's visit.
---