---
Because snakes shed their skin through sloughing, they are sometimes seen as symbols of rebirth, transformation, immortality and healing. This process was a symbol of eternity and the continuous renewal of life by many Native American cultures. The human body, on the other hand, is constantly shedding cells through natural exfoliation to keep our skin vibrant and healthy. As a matter of fact, you've shed tens of thousands of cells in the time it took to read to this point.
---
On the track, NASCAR® drivers view their cars as extensions of themselves — as a part of their persona. The car design is of utmost importance to them. A good paint scheme can help build the confidence of the driver and affect every member of a race team, while at the same time, creating a form of psychological warfare on competing drivers. A bad paint scheme can do the opposite.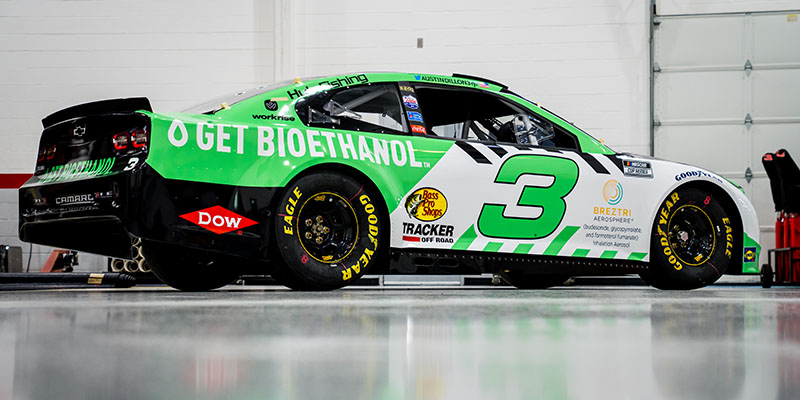 ---
At the marketing level, the purpose of a NASCAR® car paint scheme, or its "livery," is to attract fans' eyes to the car; therefore, drawing attention to the car's sponsor. Since the car's colors and theme are translated to the driver's fire suits and caps, often going on to help create additional branding opportunities for the sponsor, the paint scheme is a critical marketing tool. Changing or shedding our skin was not an idea taken lightly this year. Afterall, American Ethanol was a top ten brand in NASCAR® alongside well-known logos like Coca-Cola® and Goodyear®.
---
American Ethanol was reborn as Get Bioethanol on Father's Day in front of a sold-out crowd at Nashville Superspeedway. The Cup Series had not raced there since 1984, and the outpouring of fans and traffic proved it had been missed. Our new skin was featured on the famed #3 Chevrolet, and in bioethanol industry fashion, we had to overcome hardship to make the debut. Our driver was battling a severe sinus infection and earned a disappointing 28th starting position. The Get Bioethanol team dug in hard, and it paid off: We placed second in Stage 2, earning points and getting some good TV time. Overall, we finished 12th that day and proudly donned our new colors at the finish.
---
As a primary NASCAR® team sponsor of the #3 car, Get Bioethanol works with NASCAR® and the Richard Childress Racing team to carefully choose our paint scheme for certain races. As with all NASCAR® sponsors, the paint scheme can be instrumental in helping connect NASCAR® fans with a branding proposition; the same is true for Get Bioethanol, the fans can wear key bioethanol-related messages. We will continue to have our presence around every fuel port on every car and on the green flag — not to mention in every tank! After all, we are one of the few teams that can showcase both its brand and its product performance during a race, and we believe our transformation to the Get Bioethanol brand will allow us to do both of those things even bigger and better than ever before.
---