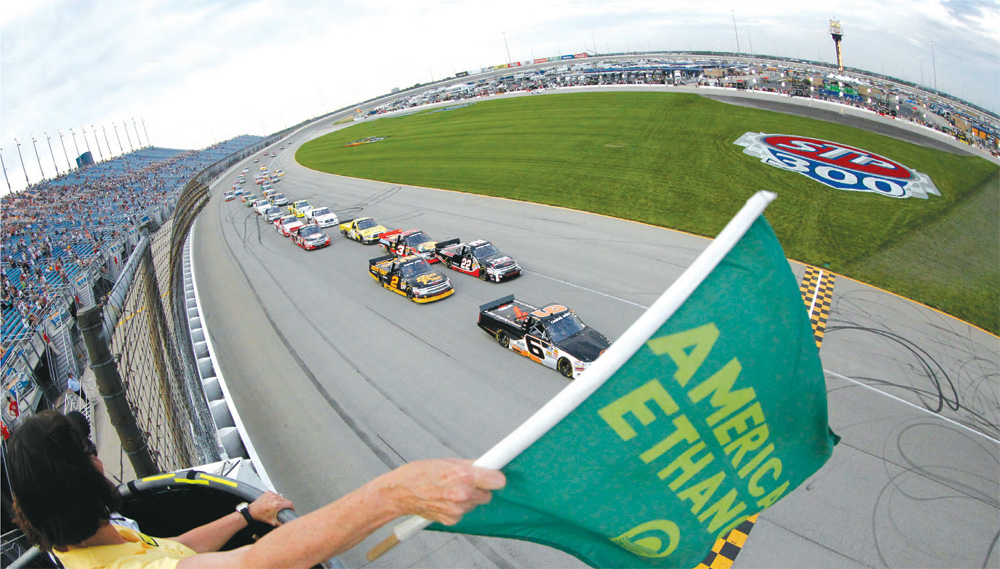 ---
Kenny Wallace remembers the first time his NASCAR® race car was filled with Sunoco Green E15 during a test session before the 2011 season. A longtime short-track racer from the Midwest, Wallace had been around various forms of ethanol racing fuels for decades. While others had questions about ethanol that day, Wallace did not.
---
"There never was any drama," he said. "People were expecting drama, but it performed perfectly. In fact, it was better than the fuel we'd been running before."
---
In its second season in NASCAR®, Sunoco Green E15 is gaining traction. Drivers, engine builders, engineers and mechanics have noticed increased horsepower and fewer mechanical issues since implementing E15. They've also noticed race fans both curious and thankful about teams' use of American Ethanol. When Austin Dillon, driver of the No. 3 American Ethanol Chevrolet, raced at Iowa Speedway in August, he heard the praise of fans, many of whom are benefitting directly from corn-based fuels.
---
"I never really paid much attention to all the cornfields around a lot of the racetracks we go to, but now that we're running Sunoco Green E15, I see them as part of our racing program," Dillon said. "The great thing about E15 from a competition perspective is that our engines are getting the same fuel efficiency as with regular fuel. It's done a great job and we've had no engine failures as a result of using E15. It's nice having an eco-friendly fuel that provides great performance, too."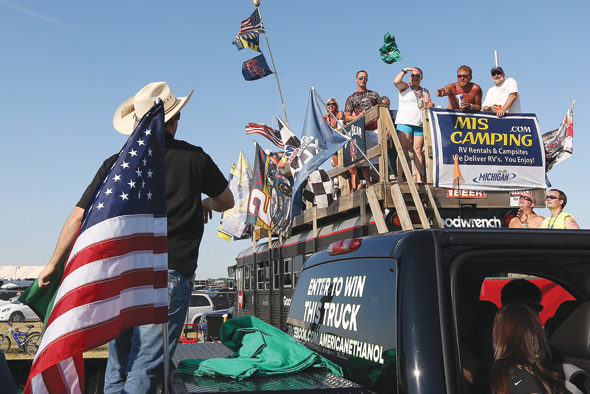 ---
That's not all that E15 provides. It has helped NASCAR® take significant steps toward conservation by introducing impactful initiatives in recycling, alternative energy and carbon mitigation. It creates tens of thousands of American jobs that cannot be outsourced. And, perhaps most important, ethanol is environmentally friendly, with emissions 20 percent less than those of traditional gasoline.
---
"It has performed flawlessly," said Robby Benton, co-owner of RAB Racing with Brack Maggard, which fields E15-fueled cars in the NASCAR Nationwide Series™. "Once we made the transition last year and educated ourselves on what we needed to do to maximize power and efficiency, we've seen increases in both. We are always finding more power with modifications to our engine builds, but we found an immediate increase to power and better mileage with the E15. We've had no failures attributable to the fuel. We're very happy with the results from the transition."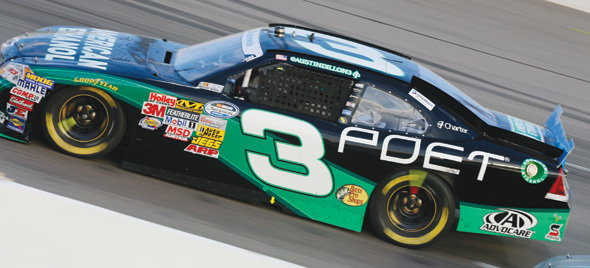 ---
Wallace nods in agreement. A native of St. Louis who grew up around Midwest tracks, Wallace knows all about ethanol as a racing fuel. For decades, racers in the Midwest have preferred alcohol-based fuels for a variety of reasons, including better horsepower, higher octane and lack of wear and tear on equipment. But the introduction of E15 to NASCAR® came with some concern among team owners and mechanics. Until they put it in their cars.
---
"Not-knowingness is scary," Wallace said. "There was not going to be success overnight with this. When you go to spread the good word about ethanol, sometimes they don't know what you're talking about. That's what it's going to take for people to understand it – us telling them about it and them using it in their cars. We're finally starting to make some noise. There's really no debate anymore about it, because we've proven that it performs."

---
NASCAR® legend Richard Childress, who introduced Sunoco Green E15 to all of his race teams in 2011, has never experienced a problem in 3 million miles – the equivalent of 120 trips around the world at speeds approaching 200 mph.
---
"We're in our second year of running E15 and, with three million miles of racing, not including testing, we haven't had a single engine issue," Childress said. "We've all been very pleased with the transition from regular fuel to E15 for that very reason – it's been much smoother than expected. I think ethanol is the most promising alternative fuel of the present and the future for America, for racing and on the street."
---
As driver of the RAB Racing car sponsored by American Ethanol from Family Farmers, Wallace has been to Washington, D.C., several times to spread the word to Congress about ethanol and its benefits as a racing fuel.
---
"People do not realize that ethanol is a high-performance fuel," Wallace says. "It's meant to run well. That's what it does. A lot of local grassroots drivers prefer E15 because it makes your motor run well. It burns cleaner, gives you better horsepower, and has a clear benefit to American farmers. It's not something new, either. Henry Ford ran ethanol in his Model T's. It's been around as long as cars have been around."
---
From the sound of things, it's going to be around for a long time to come.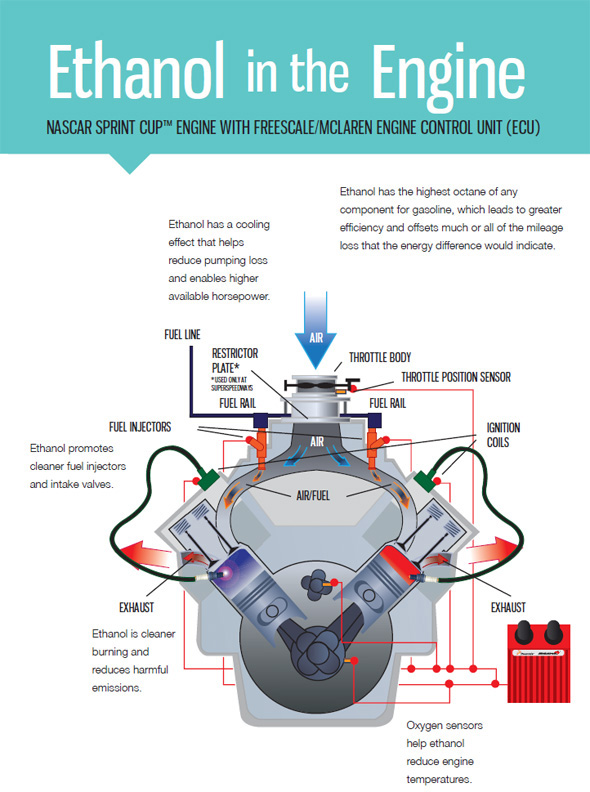 ---