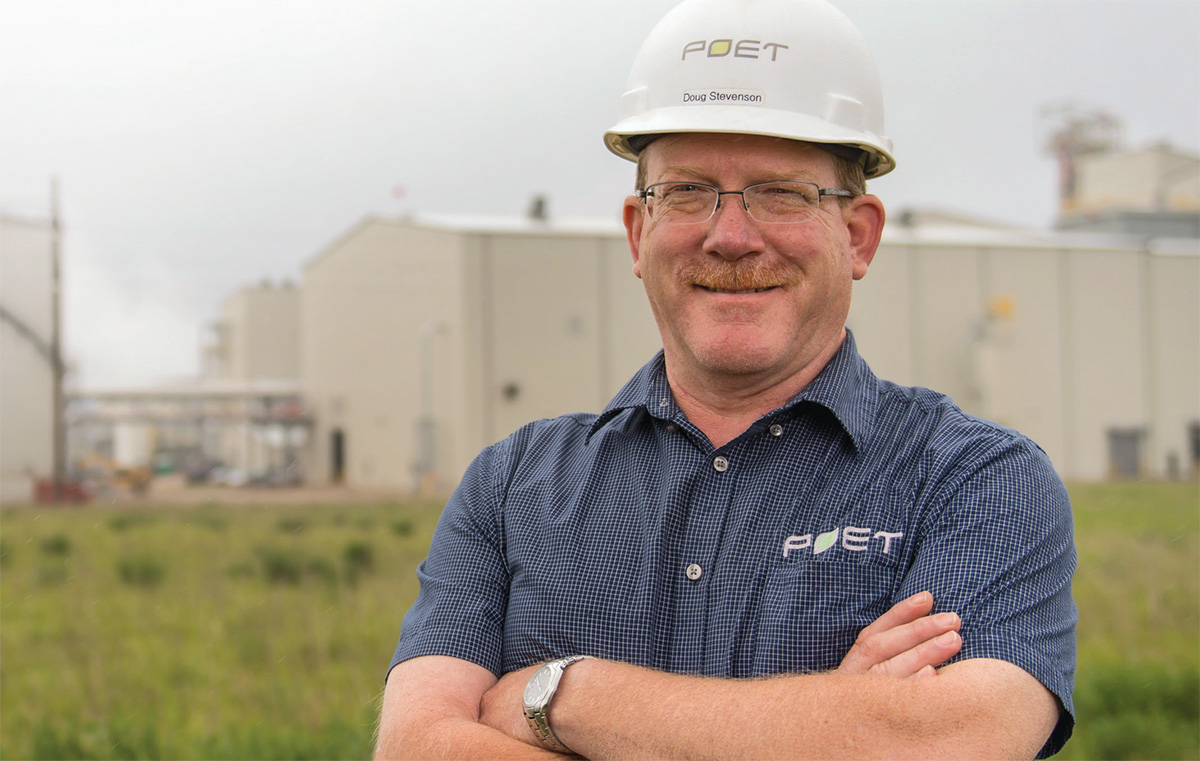 ---
During the course of a construction project, things don't always follow the original project schedule. Materials may be delayed. Multiple contractors may want to work in the same area — at the same time. Weather may necessitate adjustments. But whatever the issue, it needs to be addressed quickly so that construction doesn't come to a halt.
---
That's where Doug Stevenson, Senior Project Superintendent for POET Design & Construction, plays such a critical role in a project's success.
---
In his role, Stevenson oversees dayto-day activities during construction projects at POET biorefineries, from working with contractors, to monitoring safety, to keeping track of materials, to overseeing site maintenance.
---
Stevenson — who has worked at POET since 1989 — is seen as a go-to resource because of his experience, approach to problem solving and even temperament, which is a boon on a construction site especially.
---
"He has a great ability to see a situation and find a way to solve it. He has an approach to solving problems in a way that is innovative and lowcost," says Jeff Heikes, Vice President of Project Management – Engineering, POET Design & Construction. Heikes first worked with Stevenson during the construction of POET Biorefining – Lake Crystal in 2005.
---
Stevenson is POET Design & Construction's on-site representation for projects. "Back in Sioux Falls, it's especially helpful to know that Doug's on a project because you know that things are being managed," Heikes says. "He has the ability to take an engineer's 10,000-foot view and bring it down to the detail of how it will work on-site, down to when the concrete is delivered and placed. He takes care of those things — it's a big help."
---
Stevenson started working at POET in the late 1980s when the company was the newly formed Broin and Associates. He had just completed working on the flight deck in the Navy for four years and was looking for something different. "I was young, out of the Navy and ready for a change," Stevenson says.
---
He knew that his high school classmate Jeff Broin had launched an ethanol business in Scotland, S.D., so he called Jeff and asked him for a job. He was hired as an operator/ technician at the Scotland plant.
---
"It was a lot of work. It was a big learning curve," he says, but Jeff Broin and his brother Rob Broin were great mentors. "We were all learning at that point."
---
After working in Scotland for a few years, Stevenson moved into site management at the Aberdeen plant — the company's first from-the-groundup project — and has since been the project superintendent for dozens of projects at POET over the past several decades, including the expansion at POET Research Center and at POET Biorefining – Chancellor.
---
Stevenson and his family moved from location to location based on his assignments until finally settling down in Madison, S.D., in 2000. "It was a lot of fun, but we get to go home now — we found a neighborhood," he says of the many relocations. Today, he stays near the project location during the week and visits his family on the weekends.
---
Most recently, Stevenson worked as the project superintendent at Project LIBERTY, POET-DSM Advanced Biofuel's commercial-scale cellulosic ethanol facility in Emmetsburg, Iowa. He held that position since 2012. Stevenson will next work on the expansion at POET Biorefining – Marion, where he'll draw upon his experience during the initial plant construction from 2007-2008 at Marion.
---
At Project LIBERTY, Stevenson's expertise has been invaluable to POET Design & Construction, says Brandon McLellan, Senior Project Manager, who is the lead project manager for LIBERTY.
---
During the construction of LIBERTY, Stevenson provided insights on constructability and sequence of build that he had gained from work on other plants. "He saw the advancements of POET's centerline plants going from 15 up to 60 million gallons. He could relate to those changes and provide insights on how to better approach the design and constructability at LIBERTY," says McLellan.
---
Stevenson and Greg Tryon, Senior Project Manager, POET Design & Construction, worked together on the original construction of Marion, and will again work together during the expansion project.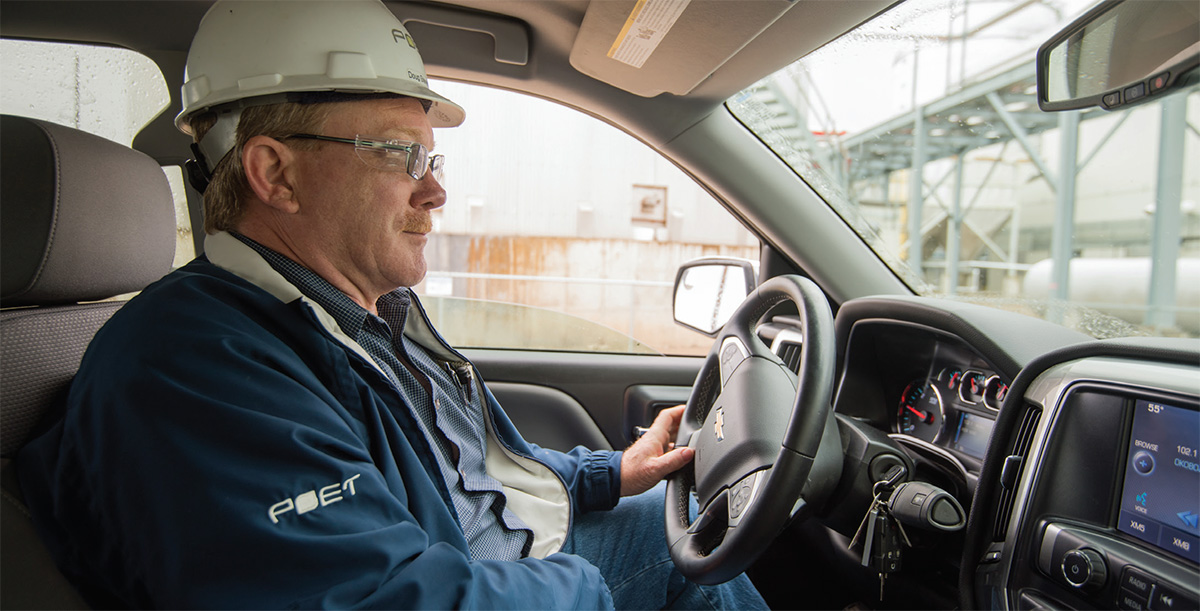 ---
"The big benefit of him being back is his experience with the site," Tryon says. "He understands a lot of the as-built conditions. We have all the drawings, but the final construction never matches the drawings exactly because there are several field changes that take place throughout the project."
---
One challenge with an expansion project is the confined space, Stevenson says, noting that there will be 150 to 160 contractors on site, with upwards of 250 individuals at times.
---
A large part of Stevenson's job is working with contractors and coordinating the delivery of supplies. During construction at Project LIBERTY, for example, there were upwards of 400 to 500 people on site. Coordinating that many contractors is akin to being an orchestra conductor, McLellan says. "Emotions sometimes run high, but he's that calming factor. He's a great sounding board."
---
Establishing relationships with the contractors is key, Stevenson says. "I like to think of it as teamwork. You have to establish teamwork relationships. I'm the guy that makes sure we can succeed."
---
Stevenson has a steady approach to overseeing contractors and the construction progress, Tryon says. "There's really not a lot that catches Doug by surprise. With his experience and background, he's seen it all. If something unexpected comes up, he'll be able to relate it to a similar problem that happened on previous projects. He's very practical with his suggestions and solutions, too. You can't teach anybody that. That just comes from doing the job as long as he has."
---
Stevenson also prioritizes making sure the job gets done safely, correctly and cost effectively. "Forty to 50 percent is safety. It becomes a big part of your duty," he says.
---
One factor that makes Stevenson so successful is that he capitalizes on the skills that he learned during the early days of POET when it was a much smaller team, Heikes says.
---
"Having worked at POET Research Center and the early plants, Doug has the experience when you don't have a large-scale team. He's self-reliant and innovative and get things done. Doug creates answers. He has that innovative spirit that has made POET such a great company."
---
Stevenson says he wouldn't still be doing what he does today — after nearly 30 years — if he didn't like it. "I feel that POET is doing the world a good thing. You feel like you are doing the country — and the world — a good thing. You have to believe that."
DOUG STEVENSON
HOMETOWN
Madison, S.D.

EDUCATION
Four years in the Navy

FAMILY
Wife Barbara, twin daughters
Shannen and Lexi (23)

HOBBIES
Camping and fishing
---