---
POET's Political Action Committee (PAC) functions to advance the interests of its members. Primarily, this is done by educating legislators and regulators on the benefits of biofuels and supporting industry champions in Washington D.C.
---
Supporting Those Who Support Us
---
Policies and legislation passed in Congress impact the biofuels and agriculture industries. POET PAC invests in leaders who will champion our cause in Washington D.C. We help keep congressional seats in the hands of biofuel and agriculture supporters, counter the influence of legislators who support our competitors and influence the conversations being had about the future of our industries and our nation.
---
POET PAC strives for equal disbursement of funds to both major political parties. As our industries are bipartisan, the POET PAC works to be as well and uses thoughtful long-term decision making to help insure the future of
biofuels and agriculture.
---
POET PAC Fast Facts
---
• The POET PAC covers 19 states and is made up of over 1,600 members.
---
• POET PAC is the largest non-connected bipartisan PAC in the biofuels industry.
---
• Small and large investments are combined to create a big impact on the fight
for a better future.
---
Every dollar counts and contributions help protect what we've accomplished and drive the fight forward.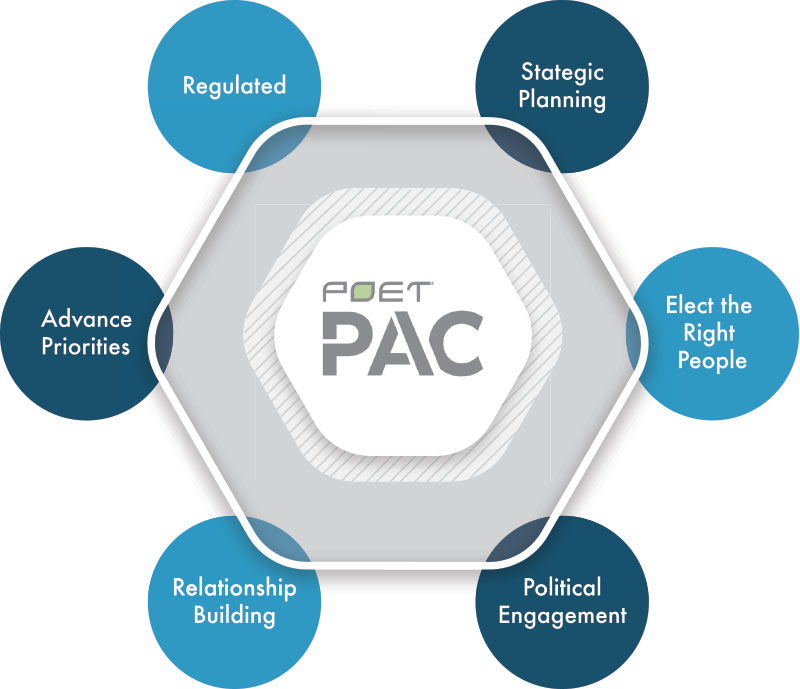 ---
To join the POET PAC, visit poetpac.com or email poetpac@poet.com.
---