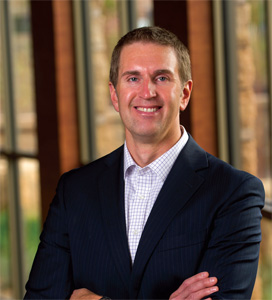 ---
My great-grandfather was a baby when he came from Germany to the United States. My immigrant family had been skilled farmers in Germany, recruited to teach others better ways to get the most from their land. When they settled in south-central North Dakota, they brought with them the history and tradition of their country, along with their own farming practices.
---
But over the last century, as neighbor taught neighbor, those farming practices became something different, something uniquely American. That spirit of change and evolution is what has made American farmers the best in the world.
---
The same concept holds true here at POET, and our ability to be innovators in the industry allowed me the opportunity last fall to go back to Germany, my family's homeland, and share our vision for a renewable future driven by value-added agriculture with business and industry leaders from around the world.
---
Our business is constantly changing, getting better thanks to the hard work and bright minds of everyone at POET. The ethanol plant that Jeff Broin and his family opened in Scotland, SD a quarter century ago is nothing like the network of plants we have today. We have evolved into true biorefiners, with multiple products. One testament to that evolution is the fact that distillers grains have now surpassed soybean meal as the second-largest feed ingredient in the United States.
---
As I look at what the next iteration of POET will look like through 2013, I see no sign that our forward movement is slowing down.
---
New products continue to diversify our business and give us access to new markets. We've now installed corn oil production in 25 POET plants, and there are some exciting products on the horizon.
---
As POET Nutrition builds on its work to make more Dakota Gold available to feeders, we'll see our presence grow in the rural communities that we call home. I'm excited to see that this symbiotic relationship with our farmer suppliers is already developing. At the same time, we'll explore even more markets for distillers grains, such as pet food and salmon/shrimp food.
---
And as I watch Project LIBERTY rise from the ground in Emmetsburg, Iowa, I'm happy to see that the core of our business, ethanol production, will continue to grow through a cellulosic conversion process that will change not only the energy outlook for America, but the agricultural outlook as well with farmers harvesting a new revenue crop.
---
These developments and many more are what make POET such a unique player in the industry, and they are a big part of how we will continue to weather any future challenges. The drought in 2012 and its impact on corn prices and corn supplies certainly are challenging for POET, as they are for all users of corn. But the investments in improving our business, a hallmark of POET plants, have ensured that we remain an industry leader and equipped us to take on whatever the future may bring.
---
The future throughout 2013 will certainly hold many challenges, new and old. Every time we enter a market, we challenge the status quo, and those who are vested in keeping the status quo as it is, those are the people we're going to hear from. We heard it last year from Big Food and those who applied for a waiver of the Renewable Fuel Standard. Although that effort was denied by the EPA, it has not stalled the attacks.
---
Ethanol is 10 percent of the American fuel supply today, and we're looking to grow. Our opponents know that; they are scared; and they would love to stop us in our tracks. We will continue to work on our own as POET and through efforts with Growth Energy and Fuels America to preserve the RFS, because it is an important tool in helping us change the world. We will stave off any other attacks on our industry as well. Ethanol has helped the Midwest find ways through difficult economic times to not just survive, but thrive. We will not apologize for that.
---
Everyone has the opportunity to be part of helping the ethanol industry. Look for Fuels America's work on Facebook or at fuelsamerica.org. Share that information and take part in efforts to spread the word about ethanol. If you're willing to do more, write to your newspapers or representatives.
---
The future is bright for POET as we continue to grow. Our name will be recognized by more companies in new markets as we bring more renewable, sustainable options to America. It is an exciting time to be a team member here at POET. If there's one thing we can count on in 2013, it's that things will keep changing.
---