---
In June of 2021, POET doubled down on the company's vision for a future based on the bioeconomy by acquiring another leading producer of biofuels and growing the company by 40 percent. This action represented the largest acquisition in biofuels' history and signaled to the rest of the world that POET stands ready to provide the biofuels and bioproducts it needs to help meet the challenges of today — most
notably climate change.
---
POET's commitment to the future of low-carbon, plant-based renewable biofuel is now immortalized in the company's first sustainability report. The report outlines POET's focus on environmental, social and governance (ESG) initiatives for the next 30 years. Among the many ESG goals, POET pledged to ensure that its renewable, plant-based bioethanol reduces greenhouse gas (GHG) emissions by at least 70 percent compared to gasoline by 2030. According to a recent study, today's bioethanol reduces carbon emissions by 46 percent compared to gasoline. Perhaps most notably, POET also plans to achieve net-zero carbon at its
bioprocessing facilities by 2050.
---
"Sustainability has always been at POET's core. We recognize that our planet urgently needs bolder solutions and better results if we hope to restore harmony between human and nature and sustain Earth's fragile balance for future generations," said POET Founder and CEO Jeff Broin. "Now more than ever, it is critical that we embrace the bioeconomy, significantly reduce our dependence on fossil fuels and harvest our energy from the surface of the Earth."
---
POET's enduring vision to create a world in sync with nature began over 30 years ago. For more than three decades the company has been a powerhouse in driving the development of biofuels and bioproducts, always maintaining a tradition of innovation and environmental stewardship along the way. As part of those efforts, POET has developed a number of sustainable technologies that are already in use.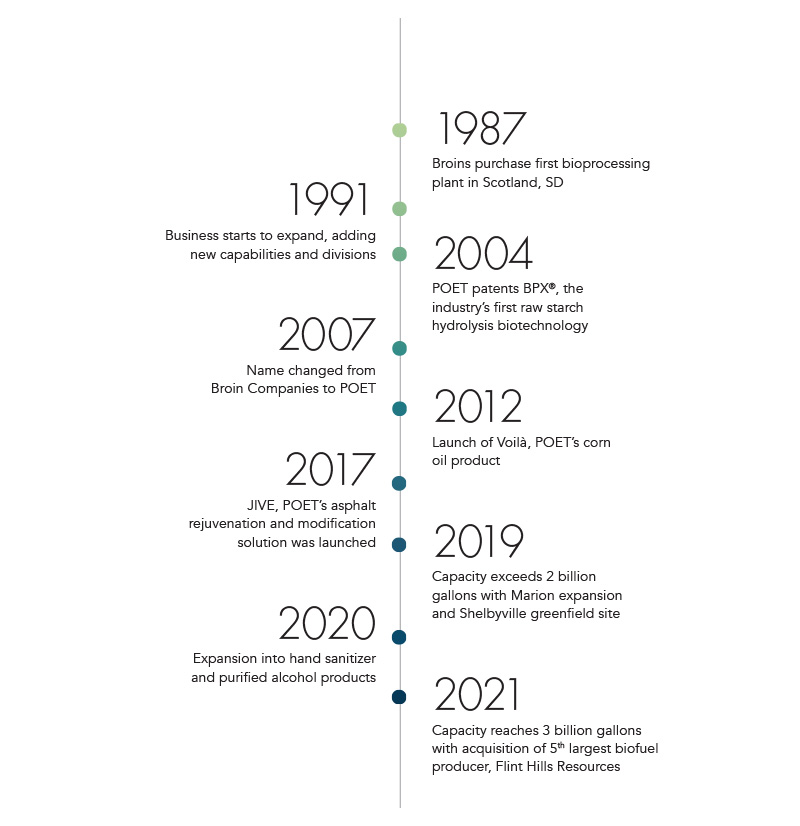 ---
"In the beginning, we were really focused on sustainability from a profitability, economic viability standpoint," said Jeff Lautt, POET President and COO. "Whether it be improving our yield, reducing our energy or water usage, those were key drivers for us. Over the course of 34 years, we've continued to remain committed to those drivers and continue to find ways to improve on all of those key operational efficiencies that go into producing our products."
---
Lautt states that POET's commitment to innovation has helped the company lead the industry in sustainability efforts. "A number of years ago, we didn't know exactly how far we were going to be able to push the envelope. But with our continued advancement in technologies and with what we're doing from a production standpoint today, we're confident that we can
get to carbon neutral."
---
POET's Sustainability Goals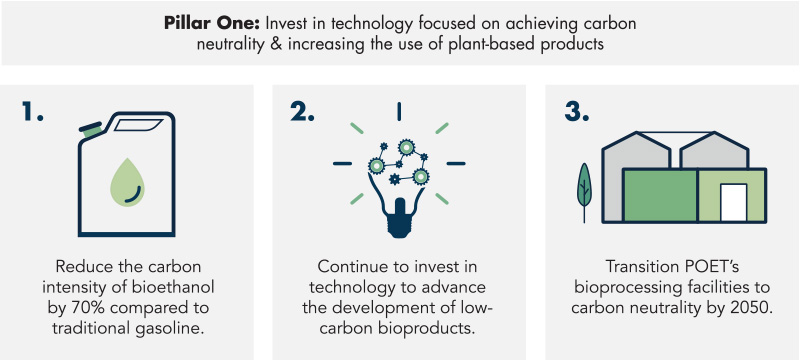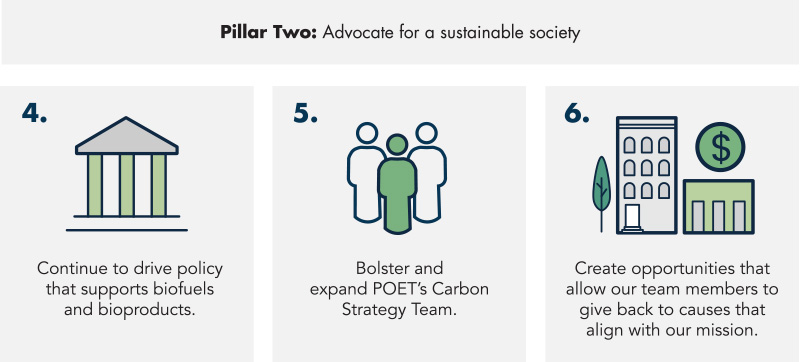 ---
With the release of its inaugural sustainability report, POET has pledged to six ESG goals divided into two pillars. Pillar number one is to invest in technology focused on achieving carbon neutrality and increasing the use of plant-based products. Goals within this pillar include reducing the
carbon intensity (CI) of bioethanol by 70 percent compared to traditional gasoline by 2030, continuing to invest in technology to advance the development of low-carbon bioproducts that can displace more fossil-based products and transitioning its footprint to carbon neutrality by 2050. Pillar two focuses on using the company's influence to advocate for a sustainable society.
---
"This is something our customers have been asking for," said Darin Cartwright, POET's Vice President of Commercial Strategy. "They want to know that the values we hold as a company align with their own ESG goals. By decarbonizing their supply chain, they can ensure they are offering a more Earth-friendly product to their own customers, and that's something that we seek to do as a company. We are ready to provide the low-carbon bioproducts the world needs today."
---
Indeed, POET's sustainability goals do not only apply to tailpipe emissions from motor vehicles. By reducing the CI score of its bioethanol, POET will be effectively decreasing the CI score of all of its bioproducts — including bioCO2, purified alcohol and DDGS.
---
"As we reduce the energy inputs and carbon intensity of our ag inputs, the entire supply chain becomes even greener. We're not just offering low-carbon bioethanol, we're further reducing the carbon of our entire suite of green bioproducts," said Cartwright.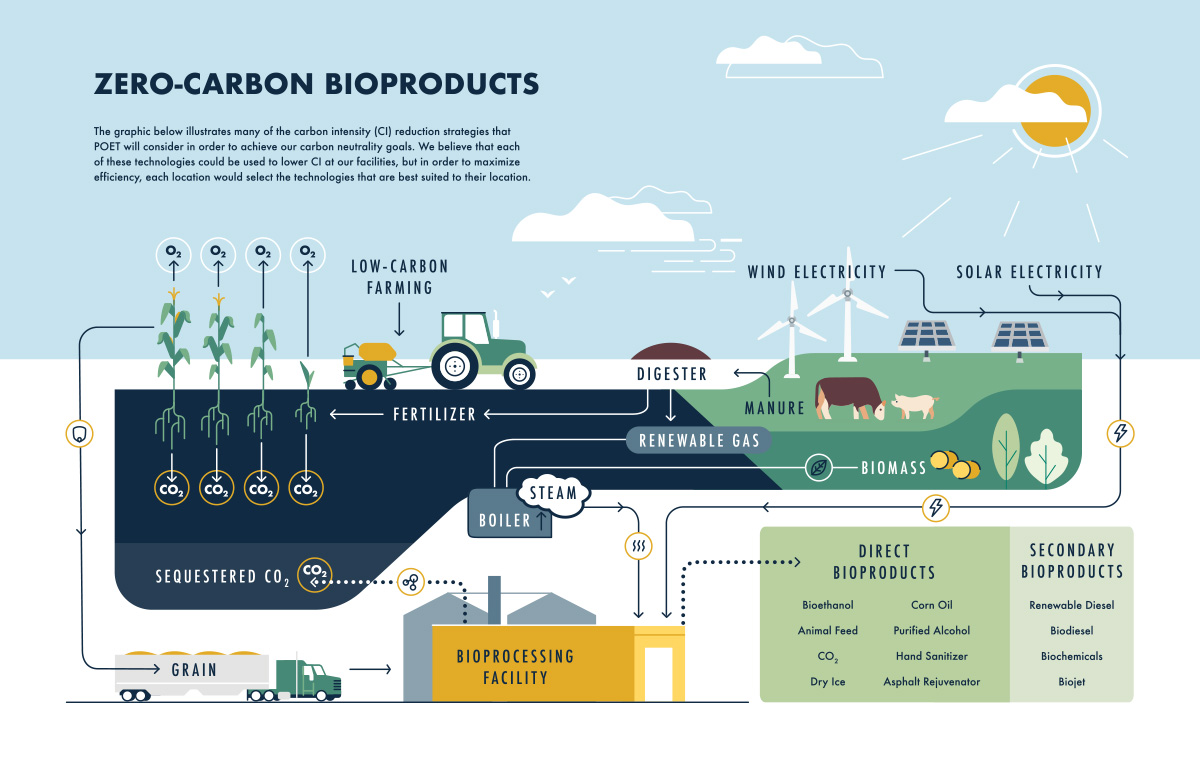 ---
POET's progress towards many of the goals will be based on the company's baseline CI score which was calculated with CI models developed by leading scientific bodies using POET's actual inputs and process parameters. POET's current CI score is 49.4 gCO2e/MJ, which is better than the industry average CI score of 51.4 gCO2e/MJ.
---
POET will explore every option available to decarbonize the supply chain and production process. Some potential pathways toward further decarbonization include operational efficiency improvements, energy inputs including increased use of renewable energy such as solar, wind, biomass and biogas, carbon capture and sequestration, improved agricultural techniques and updated methodology.
---
It is important to note that many of the carbon reduction pathways POET is considering will require state and federal policy support and significant capital investment.
---
However, POET has never shied away from a challenge. As POET looks toward what is next — and at how we want to leave the world for future generations — the company has stated that there is always room to think bigger. POET announced it intends to go all in on this drive to decarbonization, charting a path toward carbon neutrality while bringing value to rural America, engaging team members and strengthening the company's internal commitment to sustainability.
---
The company will track and measure POET's progress towards its ESG goals by bolstering and expanding POET's Carbon Strategy Team. The team meets regularly to discuss carbon reduction pathways and measure the success of process improvements and technological advancements.
---
"At POET, our solution to the climate crisis lies at the intersection of regenerative agriculture, renewable innovation and effective public policy," said Broin. "By outlining our vision for sustainability, we aim not only to position POET for long-term success, but to help blaze a trail toward global decarbonization through net-zero biofuels and bioproducts."
---
To view the entire report, visit poet.com/sustainability.
---